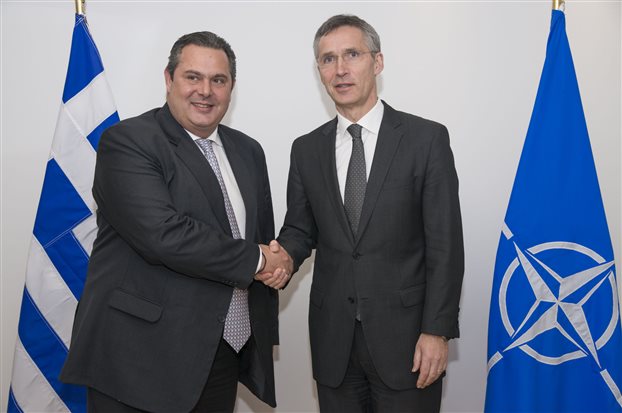 Greece, February 5, 2015/ Independent Balkan News Agency
By Spiros Sideris
The intention of Prime minister Alexis Tsipras to meet with him conveyed to NATO Secretary General Jens Stoltenberg the Greek Defence minister Panos Kammenos. Kammenos met for about 20 minutes with Stoltenberg in Brussels, a day before the Meeting of Defence Ministers of the Alliance, because he wants to be present on Thursday, when the session is held in Athens for the opening of the new House.
At the same time, and given what has been said and written lately about the "pro-Russian shift" of the new government, the Greek Defence minister, according to information of the newspaper "To Vima", that Athens sees no contradiction in cultivating relations with Moscow and these relationships do not compete or affect the contractual obligations our country has against the Alliance.
According to the same information, Kammenos conveyed to NATO General Secretary the position of the new government that it remains true to its commitments to the Alliance. "We gave assurances that the new government will continue its cooperation and good relations with the Alliance in joint exercises in joint military operations and of course respecting international agreements", the Greek Defence minister said in a statement after the meeting.
Kammenos stressed to the Secretary General that Greece is one of the few countries that adhere to the 2% limit on defence spending. He also expressed his intention to revive the domestic defence industry, as well as to fight bureaucracy in the Armed Forces.
Finally, in regard to the Readiness Action Plan (RAP) that NATO discusses for Eastern Europe, the Greek Defence Minister noted that the project must acquire an enhanced "southern dimension".
In this context, he highlighted the serious problems our country  is facing from the waves of immigrants moving to Europe from the Middle East and North Africa, among whom move dangerous jihadist terrorists.