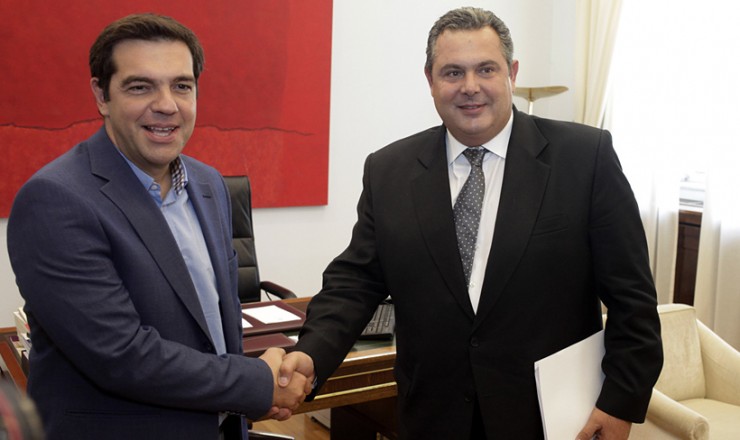 Athens, July 3, 2015/ Independent Balkan News Agency
By Spiros Sideris
Reactions have caused the opposition's statement of Defence Minister of Greece Panos Kammenos that "the armed forces ensure the stability within the country".
The statement was made during the visit yesterday afternoon of the Prime Minister Alexis Tsipras at the Pentagon, where Kammenos thanked him for his decision not to cut the defence budget, "as was the desire of the creditors".
"For the difficult moments for our country, it is particularly important to say that the armed forces ensure stability within the country, the defence of national sovereignty and territorial integrity of the country, stability in relation to the country's alliances", said the Greek defence minister, and added that the armed forces "are the fixed pillar of the State: A Republican Army and the armed forces that continue to preserve with their mission the couontry's image at home and abroad".
The New Democracy described as provocative the statement's of Kammenos, and reproaches the prime minister who "by not reacting, he apparently agrees".
Kammenos, welcoming Tsipras in the MOD, assured him that the army ensures security in the country and the Prime Minister, rather than fire him on the spot, pretended not to understand, said the head of the Foreign sector and National Defence of ND, Kostas Tasoulas.
"In democracies the military guarantees the country's borders against external threats. The police provides for the security inside the country. What I heard is an affront to the army via its own defence minister", he said.
"When the defence minister informs that the Armed Forces "… ensure the internal security of the country…", in the presence of the prime minister, all that the Greek people can feel is its backbone of freezing. We would like to remind both the minister, let alone to the left prime minister, that a European, democratic and civilized countries this role in peacetime is a matter of public order. When the army is involved in domestic issues, you know what it is and how it is said", said in a statement of The River.
PASOK, through its president Fofi Genimmata, asks the prime minister to immediately dismiss the defence minister if he, as he says, does not resign himself.
Genimmata describes as "dangerous for democracy" the words of Kammenos that armed forces ensure stability within the country.
"It is an open threat to the rights and freedoms of the Greek people and of every single citizen. This phrase brings to mind a memory of other times, with authoritarianism, and juntas. And after that, we see as a challenge to the Greek people, the stay of Kammenos as defence minister", said the president of PASOK.