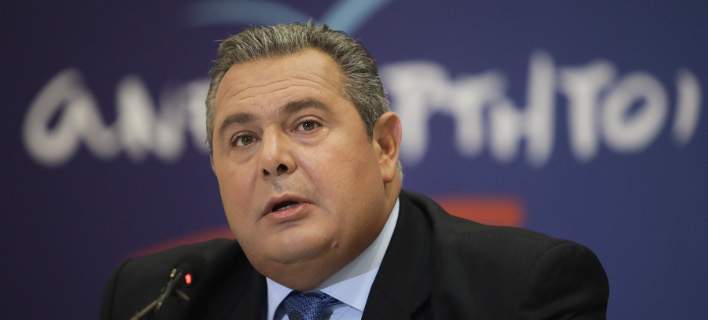 The leader of Greece's junior coalition party, Panos Kammenos, reiterated on Tuesday his MPs would not support a name deal with the Former Yugoslav Republic of Macedonia (FYROM) if it comes to parliament for a vote.
"If this agreement reaches the point of coming to Greece's Parliament we don't have the popular mandate to continue to stay in the government," the right-wing Independent Greeks party leader told a press conference at the Thessaloniki International Fair (TIF).
"My first proposal will be for the people to take a position with a referendum, the second for any discussion to be put off until after the end of our four-year term and the third to go to polls," Kammenos said.
However, he added that "we will do everything possible to avoid a clash and to complete our government's four-year term."
The comments followed a statement by Prime Minister Alexis Tsipras in Thessaloniki last weekend, with which he expressed confidence that the coalition government will not split over the FYROM name deal.
Asked by reporters at the TIF if an early election could be sparked because of the Independent Greek's opposition to the FYROM name-change agreement, the premier said he respects Panos Kammenos' view, despite disagreeing with him on the issue. He defended the agreement struck with Skopje and said he was certain Kammenos will not risk political stability and Greece's economic recovery over the FYROM issue.
The deal is set to be put to a referendum in FYROM on 30 September. If that hurdle is cleared, the country will need to amend its constitution. This process – which requires a 2/3 majority – is seen as "tricky" by Prime Minister Tsipras, who warned last week that it won't be easy for his FYROM counterpart Zoran Zaev to achieve.
Kammenos believes that the deal – also known as the Prespes Agreement – will never come to Greek parliament for ratification because it will be rejected by the neighboring country's parliament where the main opposition has voiced strong disagreement.
If the referendum results in the approval of the name-change deal by FYROM, the Greek government will have to initiate procedures for parliamentary debate and ratification. In recent days, world leaders including German Chancellor Angela Merkel and US President Donald Trump, voiced support for the agreement.
Tsipras appears determined to push through the agreement in parliament in February or March 2019. Last week the PM said he will pursue the deal's ratification, appearing confident about the outcome. Analysts believe developments on the issue may determine the exact timing of the next general election in Greece./IBNA