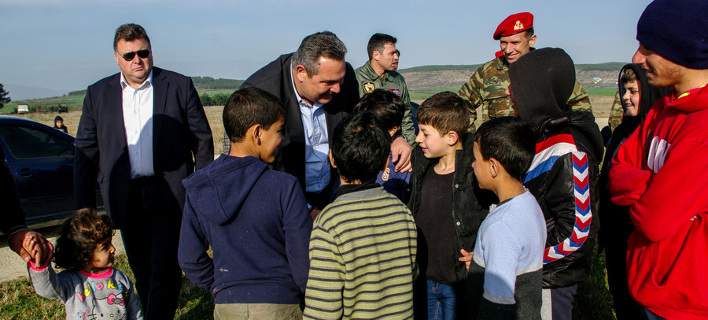 Athens, March 3, 2016/Independent Balkan News Agency
By Spiros Sideris
The explicit assurance that Greece and the Greeks will continue to show their humanitarian face to the thousands of refugees crossing the maritime borders of the country, gave the Greek Minister of Defence Panos Kammenos from the island of Thassos in Northern Agean.
P. Kammenos stressed that at this time in Greece there are 24,000 refugees who do not threaten anyone, and do not want to stay in the country.
"From the day the Ministry of Defence, following a decision of the Interministerial Committee and the Prime Minister, undertook preparations for the five hot spot, the relocation centers and accommodation centers, the Greek armed forces have demonstrated that as they fight in time of war, in peacetime they perform social work", he noted and added: "the prime minister, on March 7 in the Council of EU leaders, will have the opportunity to present Greece ready as regards the cooperation of the state, the UNHCR for refugees, the EU, the NGOs and this obligation of the country to contribute in the refugee crisis. At the same time, the agreement made with NATO is of great importance and is now starting to be implemented – with problems as you know – but with a clear unanimous mandate of all states, we are facing a global problem, from people who are victims of war".
The Defence minister stressed that so far the voices of the far-rights of Greece have been refuted, but also in Europe, where "they said that the refugees eill loot our country. But you see that they are young children who some wanted us to drown in the Aegean. But, instead, the Coast Guard and the Greek Police showed that Greece is a country of hospitality and human rights. A country that rescued these children, these families. Despite being in an economic crisis, it hosted all who passed through Greece. Do not forget that 1.200.00 people have passed, who have reached central Europe. When the refugee crisis is resolved and these people return to their homes, I think the memory that will stay with them will be that in this country of civilization and democracy, racism and xenophobia did not prevail".