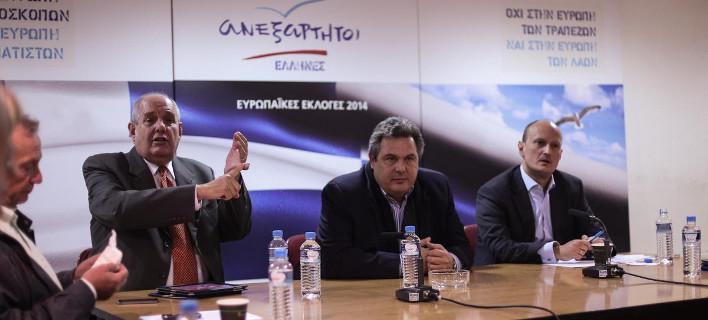 Athens, December 11, 2014/ Independent Balkan News Agency
By Spiros Sideris
For a scenario of the change of the candidate for President of the Republic Stavros Dimas between second and third ballot, spoke the President of ANEL Panos Kammenos.
He also claimed that "there are pressures on MPs with this argument", although he appeared confident that there will be no leaks from his party in the three electoral processes for the presidential election.
Kammenos, during the joint meeting of the party's Parliamentary Group and Executive Committee, appeared confident that the county will go to national election and called the nomination of Dimas "an admission of defeat".
"It is clear now that the country is heading for the polls. Mr. Samaras chose the minister of the Papademos government and vice president of ND Mr. Stavros Dimas as a candidate for the Presidency of the Republic. It is a confession of defeat. It is a confession of defeat, although he moved, like Mr. Samaras knows how to move from the era of Sympilidis with attempts to cause the defection of MPs through exerting pressures and black mail", Kammenos stressed, adding that "he will not be able to collect 180 MPs, many of whom he underestimated calling them "pillows".
Kammenos, appointed as head of the party's electoral campaign the doctor Thanassis Papachristopoulos and for the selection of candidates on the lists of ANEL, the former Deputy House Speaker Panagiotis Sgouridis.