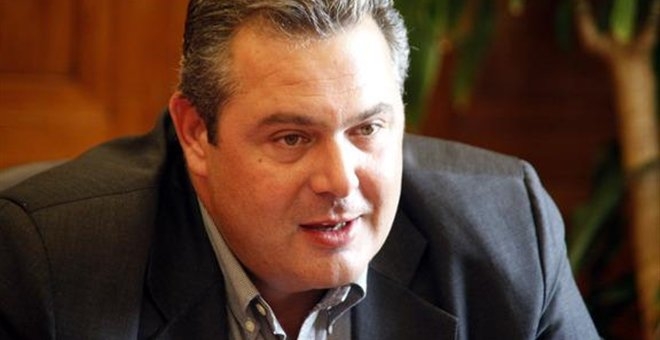 Greece, February 6, 2015/ Independent Balkan News Agency
By Spiros Sideris
During the first meeting of the Group of Independent Greeks the party president and Defence Minister Panos Kammenos, briefed the MPs on the parameters of the coalition with SYRIZA.
According to information from the AMNA, Kammenos stressed that the Independent Greeks would support the government's shoices, but will insist on the red lines they carved out bwfore the election and urged his MPs to intervene to developments freely expressing their views. He added, however, that when there are matters relating to the red lines that have been cleared, then there must be a coordinate position.
Also, the president of Independent Greeks told the MPs to consult each other and agree on the distribution areas of parliamentary action. Finally, the SG of the Group will be proposed, probably, the oldest Member, who is Nikos Nikolopoulos, but for the moment there is no final decision.
At the meeting of the Parliamentary Group the MPs took sides submitting their views. Among them, Kostas Zouraris, who spoke on the issue of immigration and Elena Kountoura who spoke on the issue of citizenship.
Furthermore, Kammenos' response to the interview by German Minister of Defence in the newspaper Süddeutsche Zeitung reported that "the behaviour and statements of German policies that replace the European Union institutions and NATO is not only unacceptable, but also blackmail".
"They undermine European institutions unless Germany aims to dispel the European Union and NATO", he added.
The Greek DM having recalled that "Greece has always been on the side of the allies when they refuted the German occupation forces" commented that "however, Greece does not intend to replace Germany on its privileged relations with Russia".