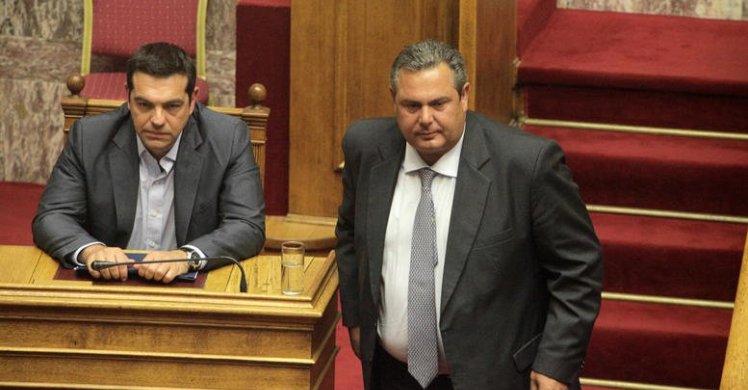 Defense Minister Panos Kammenos made conflicting statements on Thursday regarding his future response to the FYROM name-change deal – known as the Prespes Agreement – being submitted to parliament.
Speaking in the morning he said he will resign as Defense Minister and withdraw from the coalition government if the deal is ratified in the parliament of fYROMacedonia, a development expected mid-January.
Later on Thursday, Kammenos said he will resign and withdraw from the coalition when the deal is brought to the Greek House, expected mid-March.
Commentators, meanwhile, raise questions regarding the minister's stance and whether or not the ambiguity about his intentions serves a purpose.
As the FYROM parliament draws closer to the ratification of changes to the country's constitution to facilitate the name-change deal, Greek media are speculating on the chances of the Prespes Agreement being ratified by MPs when it comes to the Greek House for approval.
According to reports this week, as things stand the government is expecting 149 to 153 parliamentarians to back the deal when it is tabled in parliament, possibly towards the end of January.
This arithmetic is believed to have alarmed the government which fears it may lose the vote, especially if more "provocative" statements are made in the neighboring country in the meantime, in addition to the FYROM premier's controversial comments over the issue of a "Macedonian" language.
Besides the 145 MPs backing SYRIZA, a further four votes are expected to come from ANEL MPs Elena Kountoura and Thanasis Papachristopoulos, Potami MP Spyros Danelis and independent MP Katerina Papacosta.
Efforts will be made to persuade other Potami MPs to back the accord in order to clinch the necessary majority of 151. To Potami party leader is considered by analysts to be contemplating a shift towards opposing the deal. However, he has denied discussing the issue with main opposition leader Kyriacos Mitsotakis and expressed his conviction that his party will decide its stance autonomously at the appropriate time.
The Greek government hopes that amendments introduced to the FYROM constitution safeguarding Greece against irredentist claims will suffice to convince MPs to back the deal in the Greek House./IBNA