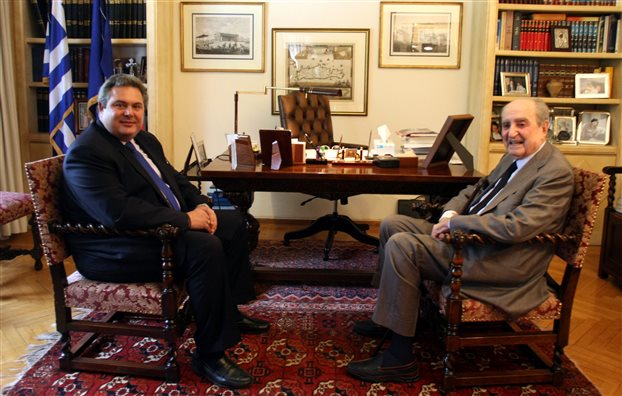 Athens, December 19, 2014/ Independent Balkan News Agency
By Spiros Sideris
Honorary president of New Democracy Kontantinos Mitsotakis met with president of Independent Greeks Party (ANEL) Panos Kammenos, from 11:00 to 11:45 in the political office of the former in Aravantinou street.
Immediately after the meeting, Kammenos made a statements, saying a mong other things that Mitsotakis asked him to help find a consensus solution and he replied that such a solution can be found after the elections.
He also said that Mitsotakis did not ask him to support the candidacy of Stavros Dimas, but asked him that all parties keep a national economic policy before the elections.
The president of ANEL said, however, that before the election, "we won't get into such a discussion", repeating the known position that elections are the only way "especially when Samaras and Venizelos refuse dialogue and have signed specific commitments."
"Do your duty", reportedly said the former prime minister to the president of AN.EL., having earlier explained extensively the risks, according to his judgment, which may arise for the country from the possibility of early elections, especially since negotiations with the troika are still open.
Kammenos revealed that he has regular communication with the Honorary President and that things would be different for the country if, in 1993, The Mitsotakis government had not been overthrown.
"Konstantinos Mitsotakis 'is very concerned', and considers that the country's economy has reached an extreme situation. The economy of the country would not be in this situation if the Mitsotakis government had not been overthrown [by Antonis Samaras]".
The president of ANEL was on time for his appointment with Mitsotakis and arrived at Aravantinou street accompanied by ANEL spokesperson Terrence Kouik.
At the entrance he was welcomed by the head of security of Mitsotakis' security, Manousos.
Information indicates that 10 days ago the President of ANEL had asked to meet with the honorary president of the ND.