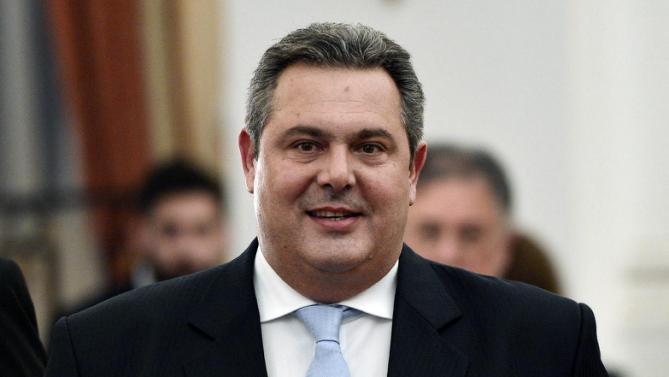 Athens, December 3, 2015/Independent Balkan News Agency
By Spiros Sideris
The president of the Independent Greeks (ANEL) and Minister of National Defence Panos Kammenos, in an interview on Mega television, said that the ruling majority is strong enough. He did not however rule out the possibility of it increasing.
After having said that he regrets the situation which has been created in the main opposition party New Democracy, she continued saying that "there are exceptional units in ND who I find difficult not to support an agreement they voted in the summer".
He added his assessment that "MPs belonging to the Karamanlis-Wing and other MPs" will support the government, while replying to a relevant remark he said that this does not constitute an apostasy.
"There would have been an apostasy if (the ND MPs who will vote) changed their political line", Kammenos said, noting that the MPs should support the country.
He also said that the people "in the cafe, in the neighborhood" who voted for Syriza and ANEL knew that there is agreement with prerequisites.
"If ND gets rid of the Samaras system and those brought from LAOS, it can help as a whole", he said at another point in his interview, and referred to the possibility that existed of forming a wider government, "if Mr. Meimarakis had gotten rid of Samaras Voridis, Plevris Georgiadis and Baltakous".
Kammenos also said that there could be a cooperation with PASOK "if Mrs. Genimmata gets rid of Evangelos Venizelos".
In the observation that for any form of cooperation "for the others, ANEL is the obstacle", he said that "if the prime minister decides that he does not want to collaborate with us any more, we are not professionals (politicians)".
He explained that in some cases, such as the prevalence of personal views of Mr. Filis or if Skopje are named Macedonia or if Evangelos Venizelos is granted asylum for the submarines scandal or in a collaboration with "Samaras-Wing of New Democracy" or any cover-up of scandals, he will leave the coalition.
The President of ANEL said there will be no cuts in pensions, he submitted a proposal to increase the contributions of both employers and employees – about 1% on either side – while in regard to the "9 points" proposed by the president of the Center Union, Vasilis Leventis, he said that "some of them are reasonable".
Commenting finally the need for a council of political leaders, given that nobody wishes to cut pensions, he said that a joint decision of the parties gives more leverage in the negotiation with the partners-lenders.