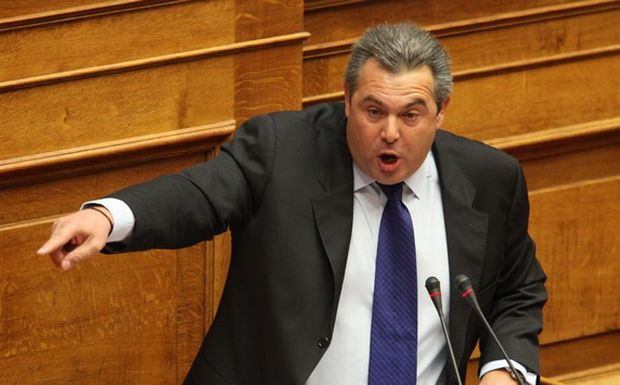 Athens, November 23, 2015/Independent Balkan News Agency
By Spiros Sideris
Strong comments against the head of the Greek Secret Service (EYP) was launched by Panos Kammenos. The president of the Independent Greeks and Minister of Defence praised the skills and level of information acquired by the Agency's staff, but at the same time he was critical of how the administration handle certain cases. More specifically, in an interview with the daily 'Real News', he called for the resignation of the head of the EYP Yiannis Roubatis, for the case of Yannis Panousis.
"I disagree with the administration of the National Intelligence Service and specifically with Mr. Roubatis, because when we see dialogues from wiretaps made by EYP on TV shows, and written conversations in the hands of Mr. Panousis, this should result to Mr Roubatis' resignation. Beyond that, there shouldn't take place exchange information in a hotel in Loutraki, between the Citizen Protection Minister – and I am referring to Mr. Panousis – and the head of the National Intelligence Service", he said.
What's more, Kammenos made sharp criticism to EYP for its decision to send a document to NATO, in which it said that "there are no jihadists passing through the country and there are no such evidence".
"There are evidence. Clear evidence. The Coast Guard arrested in Kos two of them. On their mobile phones they had photos with the flag of ISIS, with Kalashnikovs and victims. It should be made clear that Greece is the stabilising factor that can create an "arc" of stability in the region", he said.
Referring to the possibility of Greece participating in military action against the jihadists, Kammenos said that nothing of the sort has thus far been requested from France.
"Greece is part of the neighborhood, it cannot take part in such operations, because it would lose the ability to be the stability factor that can hold talks and organise an international coalition", he said.
At the same time, he stressed that Greece might play a decisive role in the creation of an alliance against the Islamic State.
"The activation of Article 47 §. 2 of the European Union has to do with the general request to the EU for assistance. Greece has traditional ties and relations beyond alliances with the EU and NATO, with countries such as Israel, Egypt, UAE, Tunisia and of course Cyprus. At the same time, Greece is perhaps the only country of NATO, which maintains excellent relations with Russia. This means that Greece can play a very important role in this situation", said the defence minister, describing the Islamic State as an "asymmetric threat".