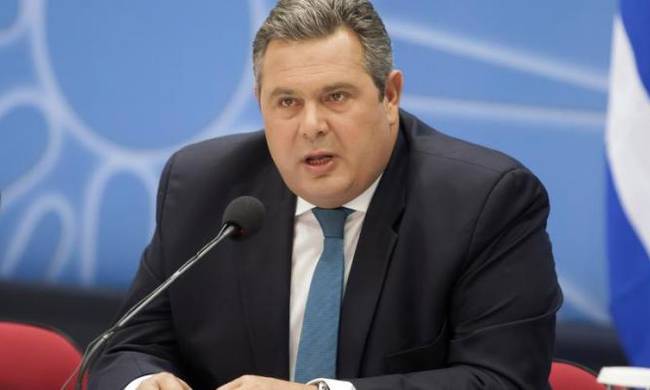 Athens, August 26, 2015/Independent Balkan News Agency
By Spiros Sideris
We kept the country train stable, said Panos Kammenos speaking to the parliamentary group of Independent Greeks, while thanking the MEPs who have remained solid throughout this period.
The President of ANEL and Defense Minister noted that the country should now be led to development, since "the fire that reached the sea, has now gone out".
At the same time, he criticised the portion of the SYRIZA MPs who did not vote for the agreement. "If ANEL had done the same we would have the ultimate responsibility for the bankruptcy of the country and the fall of the government".
"I see colleagues, with whom I sat in the same Cabinet, talking about other solutions. I want to assure you that there are no other solutions", he underlined.
Kammenos reiterated that the government negotiated hard and got the very important commitment for a debt "haircut".
The defence minister acknowledged that many of the measures taken is harsh and contrary to the mandate his party had received from the Greek people.
However, he underlined that a battle was given for the budget of the Armed Forces, of VAT in the islands, but also to avoid bonds being subjected to English Law.
Kammenos called "lost votes as" the vote to systemic parties, saying that ANEL will participate as guarantors in the next SYRIZA government.
He described Alexis Tsipras as "a real leader who can in cooperation with ANEL, proceed to the catharsis of the Greek society".
As regards the party's electoral assembly, he said that "in the candidates lists where there are elected MPs, of course there will be no changes in the first place, where our results are better than the national result the order of election will remain the same, as decided by the Greek people on January 25, while there will be several changes with the agreement of the coordinating committees, with new people in several regions of the country".
Terrence Kouik will be responsibile for communication in the electoral campaign, while Marina Chrysovelonis "will also remain a spokesperson, but will give the battle at Magnesia".
Kammenos asked to head the Commission Elections Event, Mr. Panagiotis Sgouridis, and this work will involve the CR and the Executive Committee of ANEL.