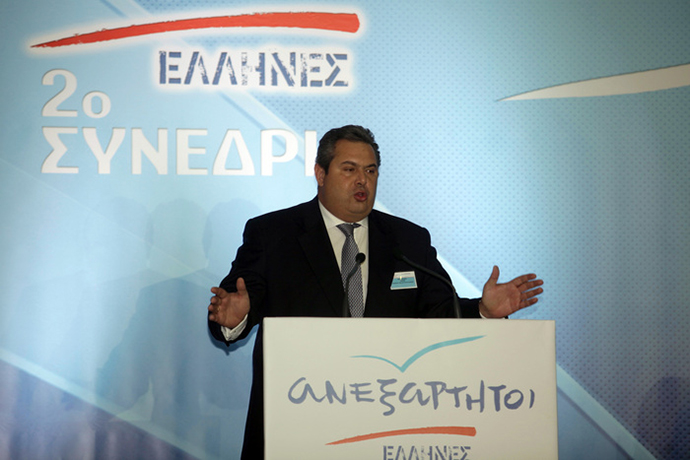 By Spiros Sideris – Athens
For the creation of a great patriotic democratic alliance, a PF, argued the president of Independent Greeks (ANEL) Panos Kammenos, speaking at the 2nd conference of his party.
"They used every means to make people believe that their only hope is a compromise, but also to break us. But we are still here. We remain firm on principles of Orthodoxy", Kammenos said.
Referring to those who left the Parliamentary Group of Independent Greeks he said: "They sold the popular mandate that you gave them. We are not inviting them to return to the party, but to deliver the seats they stole from their Independent Greeks".
Referring to the issue of a cooperation with SYRIZA the president of ANEL said: "we don't discuss under the table. We have red lines on national issues and will not back down. We have clear positions on national matters and orthodoxy. But we will seek to form a coalition in a government in which Independent Greeks will be a guarantee for tomorrow". essentially announcing a post-election cooperation with SYRIZA.
Kammenos also referred to the internal affairs of his party, saying that "we will emerge stronger from the conference, and the battle ahead will be tough" and added sending message to all: "Everyone will speak here. Both those who agree and those who disagree. But tomorrow, whoever comes out of here will be bound by the decisions of the conference. There is the principle of majority, which will be respected by everyone".
Supported the country's geopolitical shift towards Russia, saying that "Europe Germans allegedly conqueror and not as an ally."
"We believe in the alliance with – common religion – Russia and President Putin. We demand the immediate lifting of the embargo and the signing of an agreement with the Eurasian union; we ask an agreement with China. Let the US come directly to discuss a joint exploitation of oil in the Aegean".
Concluding his speech, called for the "empowerment of the Executive Committee of the party, to forge partnerships with individuals" and concluded: "The elections will take place in March. They will not manage to find 180 MPs. to buy or blackmail".