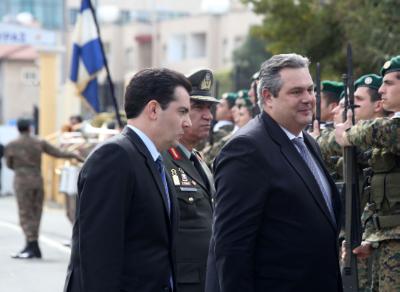 Nicosia, February 12, 2015/ Independent Balkan News Agency
By Kyriacos Kyriacou
Relations between the Ministries of Defence of Cyprus and Greece, as well as between the Armed Forces of the two countries are becoming ever closer, said the Defence Ministers of Cyprus and Greece, Christoforos Fokaides and Panos Kammenos respectively.
Kammenos, who is on an official visit to Cyprus, was received on Wednesday by his Cypriot counterpart at the National Guard General Staff, in Nicosia.
The Greek Minister of National Defence said Athens remained by the side of Greek Cypriots, while reiterating that the Cyprus problem is approached by the Greek government as a problem created following Turkey`s 1974 invasion and occupation of the northern part of the island.
Speaking after the meeting with Fokaides, Kammenos said the presence of the Turkish seismic research vessel "Barbaros" in the Cypriot exclusive economic zone was "an outright provocation".
Turkey can not go on ignoring international law, UN resolutions and the presence of an EU member state, he added.
"We want peace", but "we are also ready to respond to any attempt against the national sovereignty or territorial integrity of the broader defence area of Greece and Cyprus, if necessary" Kammenos noted.
He also announced that Greek Armed Forces would conduct in the next few month common military exercises with Cyprus, Israel and possibly Egypt.
Asked if there will be any attempt to revitalize the Common Defence Doctrine between Greece and Cyprus, Kammenos said that certain plans are underway and will be revealed in the next few months.
Fokaides, while welcoming Kammenos to Cyprus, thanked the Greek government for its continuous support to Nicosia.
The Cypriot Minister further announced that an officer of the National Guard, the Cypriot armed forces, will be installed in Athens to act as liaison with the Hellenic National Defence General Staff.
"Greece has always been and remains a steadfast and unselfish advocate of the independence and sovereignty of the Republic of Cyprus" while supporting our fight to put an end to Turkish occupation and reunify the island, Fokaides underlined.
Discussions with his Greek counterpart focused on developments in Cyprus, in light of Turkish provocations in the EEZ, the Minister went on.
Furthermore, Fokaides expressed Cyprus` resoluteness to defend its sovereign rights against any aggression.
The meeting between the two Ministers was also attended by the Chief of the National Guard Lt Gen Georgios Basiakoulis, the Chief of the Hellenic National Defence General Staff General Mikhail Kostarakos and the Greek Deputy Minister of State Terence Quick.
Kammenos also met with Cypriot President of the House of Representatives Yiannakis Omirou. The two men exchanged views on the importance of parliamentary diplomacy and agreed on the need for more coordination through exchange of visits and joint cooperation on the level of governments and parliaments.