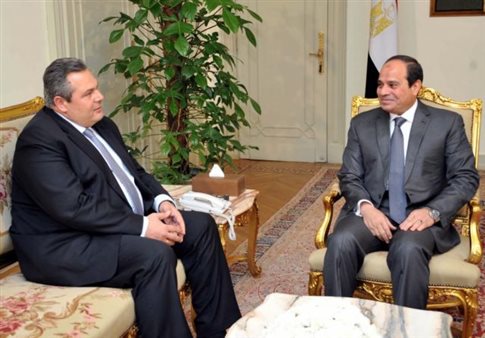 Athens, April 22, 2015/ Independent Balkan News Agency
By Spiros Sideris
The Greek Defence Minister Panos Kammenos, who is on an official visit to Egypt, met at the Presidential Palace with President of Egypt on Tuesday.
In their meeting, in the framework of the official visit of Panos Kammenos in the country, the Greek Defence Minister and the Egyptian President agreed on the establishment of a Joint committee between Greece and Egypt on cooperation in defence matters.
As heads of the committee will act the Defence Ministers of the two countries and its works will begin in the next few days. Discussions also revolved around the defence planning between the two countries when the EEZ of Greece and Egypt have been determined.
Kammenos also visited El Alamein and laid a wreath at the monument of the Greeks who died in October 1942.
Greece took part in the historic battle with the 1st Brigade – three infantry battalions, a field artillery regiment and an antitank regiment – under Colonel P. Katsotas and was incorporated in the 50th English Division which was "holding the front 9 km in the southern sector ".
During the diversionary operation of the 13th Army Corps in the southern sector – the night of 23 to 24th of October – the Greek Brigade played an important role "defeating the opposing 20th Italian infantry regiment and two battalions of German paratroopers, persecuting the enemy for 160 km".