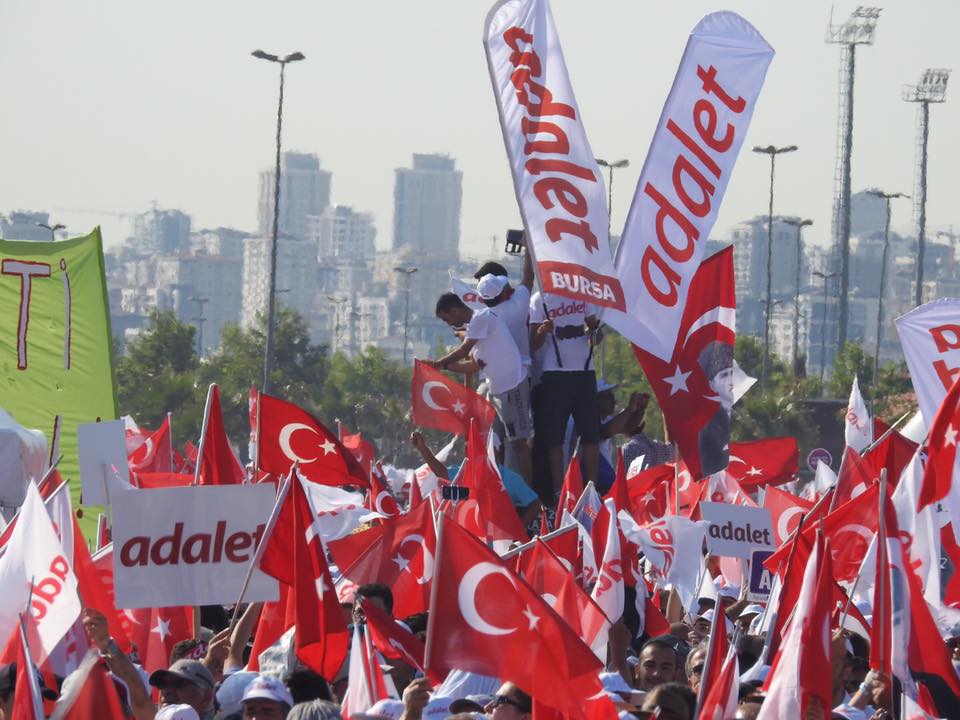 After 25 days of protest, Kemal Kilicdaroglou, the main opposition leader, completed the "justice rally", which began on 15 June in Ankara and was completed in the Maltepe region of Istanbul. He walked to protest the 25-year imprisonment of his party's deputy, Enis Berberoglu, on charges of providing secret state information to turkish newspaper Cumhuriyet.
"July 9th is the day of the rebirth of Turkey, we walked to bring justice to the country and stop the political violence in the country", Kilicdaroglou said in his speech at the end of his journey to hundreds of thousands of Turks gathered in the  Maltepe district.
The 69-year-old president of the Republican People's Party (CHP) completed a 450 km march and the whole event was turned into a rally  involving thousands of opponents of Recep Tayyip Erdogan. Some of Kilicdaroglou's followers liken him to Gandhi, and his Salt March against British sovereignty in India.
The Turkish government, despite its intense protest with the rally, protected Kilicdaroglou in fear of provocation. In Istanbul, 15,000 police officers were on duty to provide security.
A few days ago, Erdogan accused the CHP president for collaborating with terrorists. The Turkish president warned against taking legal action against him.
However, opposition to Kilicdaroglu stressed that he did not march when 12 MPs of the pro-Kurdish HDP party were jailed among them their president of Selahetin Demirtas. Nor when about 50,000 people were arrested after the attempted coup d'état of July 15, 2016 against the Turkish president.
The arrested are accused of participating in the attempted coup and of having relations with the Gulen movement, which Ankara describes as a terrorist organization.
Kilicdaroglu is accused of basically starting the march of justice only when a member of his own party was arrested.
"I am addressing the judges and prosecutors of the country. Discard any request you will get from the palace (Erdogan). After the attempted coup that failed, we now live in the political coup. I address the members of the Supreme Court. Do not be afraid. Do not listen to the palace commands. He walked for the 80 million Turks. We will not be afraid. We want a free Turkey, with free journalists, with free universities, with free parliamentarians," Kilicdaroglu said in the closing statements  of his speech./IBNA
Photo: Engin Bas