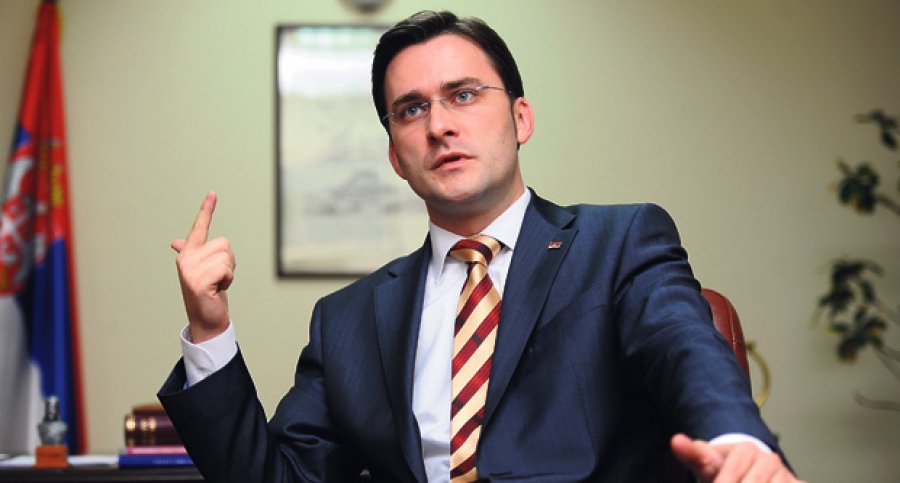 By Milos Mitrovic – Belgrade
Serbian Justice Minister Nikola Selakovic (photo) confirmed today accounts which suggest that eavesdropping devices have been installed in a hotel premise in which Prime Minister Aleksandar Vucic was supposed to attend a meeting.
Selakovic said that government's security officials have found "something interesting" in the hotel's conference room – eavesdropping devices, Tanjug news agency reported. Minister revealed that "the case" occurred on 1 November in unnamed hotel owned by tycoon Miroslav Miskovic. According to Selakovic this case as well as some "other activities" confirmed that tycoons are making plot to change the government.
Miskovic is considered to be the second richest person in Serbia with an average net worth of 507.3 million EUR.  He was at a Forbes millionaires list in 2007. From December 2012 to July 2013 Miskovic was detained amid Vucic's anti-corruption campaign. He was released after posting 12 million EUR bail. Miskovic is suspected for "gaining illegal profit" of about 30 million EUR in road constructing business. The case is not resolved yet and Selakovic has recently accused some politicians and lawyers which are on strike for blocking judiciary in order to protect Miskovic.
Selakovic accused today the head of the Administrative Board of the Bar Association of Serbia for "being Miskovic's lawyer". When asked by the journalists in the parliament whether he thinks that lawyers are responsible for eavesdropping Vucic, Selakovic answered that "he has said what Miroslav Miskovic is doing here and what he is trying to do in Serbia". "Do you think it is normal anyone to eavesdrop Prime Minister?", Selakovic suggested adding that "Miskovic and his lawyers will not defeat government and citizens and this should be clear to everybody".
Selakovic met today "the representatives of the lawyers which want to work but were prevented by lawyers bars by threats and pressures", Selakovic said. He specified that these representatives have asked for support from the ruling Serbian Progressive Party MP's".
Justice minister has practically accused tycoons and lawyers for  planning coup d'état. "The objective of the tycoons is to provoke overthrowing legally elected government", he was quoted as saying by Tanjug.
Selakovic recalled that his resignation is among lawyers demands from the government adding that this is not "important". He underlined, however, that "Miroslav Miskovic and his lawyers will not defeat Serbia, citizens and the government".