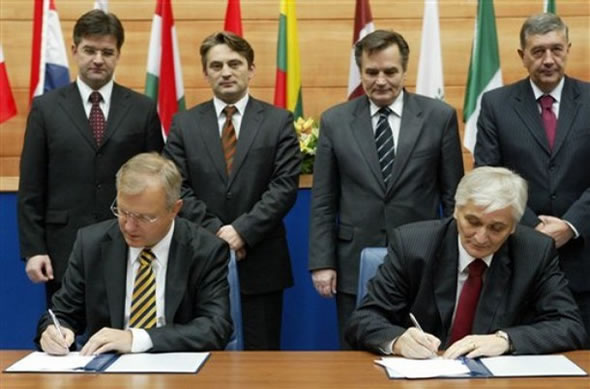 Sarajevo, May 29, 2015/ Independent Balkan News Agency
By Mladen Dragojlovic
Monday, June 1 will be a historical benchmark for BiH, since the Stabilization and Association Agreement (SAA) will come into force in full capacity. State institutions must be prepared for this event and, in order to ensure that, EU Special Representative, Lars-Gunnar Wigemark met Friday in Sarajevo with members of Collegiums of BiH Parliament House of Representatives and House of Peoples.
Wigemark said that the Parliament will play a key role when the alignment of BiH laws with EU jurisdiction come on agenda and added that BiH must have the capacity for that process. He added that EU is ready to help BiH institutions, as it has been doing so far.
"Every EU country has its own political system. BiH also has its own political system which is complicated. EU also has a complicated system, but member countries have agreed with a line of principles and standards which BiH must also implement. Harmonising BiH laws with the EU's laws is an enormous task for Bosnia and Herzegovina. The country will need to adjust its laws with a body EU of legislation developed over decades. This will be at the heart of our cooperation, Wigemark said on a press conference after the meeting.
Regarding the obligations BiH must finish for next period, Wigemark emphasized economic reform, social system reform and reform in terms of establishing the rule of law that has to respect  EU standards, which is important for the SSA to come into force, which will provide a framework for serious strides in this direction.
"If there is a clear wish of the people to move forward, and if that wish is supported by political will, all open issues can be solved on technical level", Wigemark said.
Chairman of BiH House of Peoples, Barisa Colak, said that it is very important to establish every day communication between EU and BiH institutions and to do all the best in order to implement the tasks necessary for BiH's entry in EU.
"In the front of us there is a serious package of socio-economic reforms, serious changes in the Election law and a line of other issues", Colak stressed.
SAA between EU and BiH was signed in Luxembourg in June 2008, but because reforms stopped, it never came into force. After political leaders in BiH agreed to make reforms, in accordance with new EU initiative for this country, the implementation of SAA was proposed and it will start Monday.