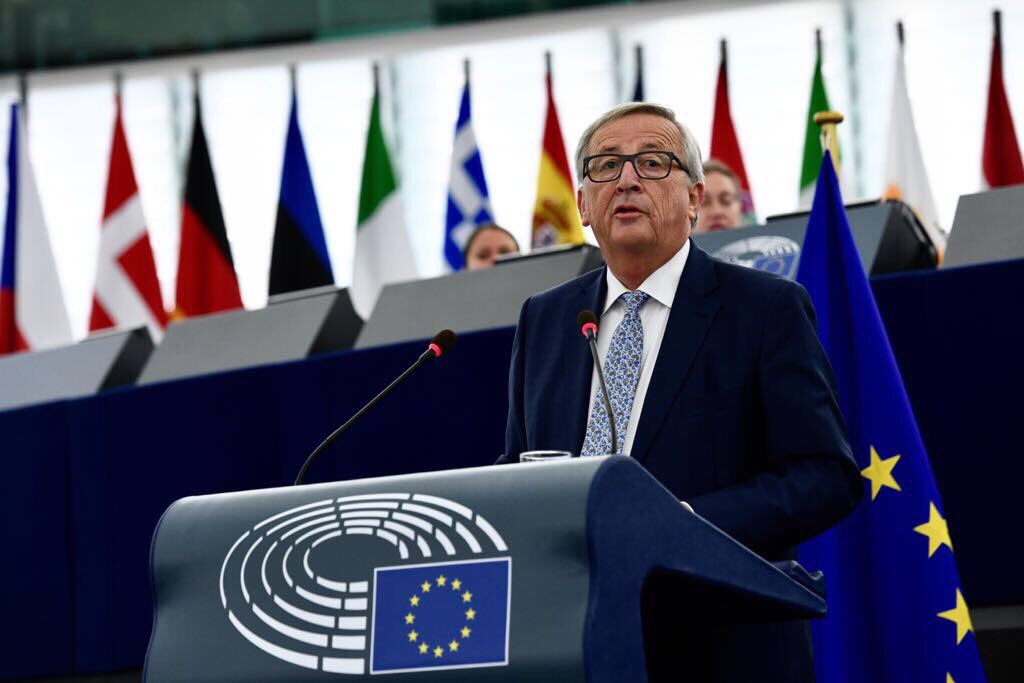 European Commission President Jean-Claude Juncker today delivered his 2017 State of the Union Address, before the elected members of the European Parliament in Strasbourg, presenting his priorities for the year ahead and outlining his vision for how the European Union could evolve by 2025. President Juncker appeared optimist and positive, presenting a Roadmap for a more united, stronger and more democratic Union.
In his speech, J-C Juncker referred many times to Balkan area. Sometimes directly, saying that "Europe extends from Vigo to Varna. From Spain to Bulgaria. East to West: Europe must breathe with both lungs. Otherwise our continent will struggle for air" and other times in an other, hidden way: "In a Union of equals, there can be no second class workers. Workers should earn the same pay for the same work in the same place."
Every year in September, the President of the European Commission delivers his State of the Union Address before the European Parliament, taking stock of achievements of the past year and presenting priorities for the year ahead. The President also sets out how the Commission will address the most pressing challenges the European Union is facing. The speech is followed by a plenary debate. This kick-starts the dialogue with the European Parliament and Council to prepare the Commission Work Programme for the following year.
President Juncker said today. "If we want to strengthen the protection of our external borders, then we need to open the Schengen area to Bulgaria and Romania immediately. We should also allow Croatia to become a full Schengen member once it meets all the criteria".
For the Euro area, his opinion was that "If we want the euro to unite rather than divide our continent, then it should be more than the currency of a select group of countries. The euro is meant to be the single currency of the European Union as a whole."
And for the enlargement, he was clear: "We must maintain a credible enlargement perspective for the Western Balkans (…) It is clear that there will be no further enlargement during [this] mandate (…) But thereafter the European Union will be greater than 27 in number."
President Juncker repeated his stance for Turkey. "Turkey has been taking giant strides away from the European Union for some time. Journalists belong in newsrooms not in prisons. They belong where freedom of expression reigns. The call I make to those in power in Turkey is this: Let our journalists go", he said.
President Juncker's speech in the European Parliament was accompanied by the adoption of concrete initiatives by the European Commission on trade, investment screening, cybersecurity, industry, data and democracy, putting words immediately into action.
SOME OF HIS QUOTES
-Trade: "Partners across the globe have started lining up at our door to conclude trade agreements with us. (…) Today, we are proposing to open trade negotiations with Australia and New Zealand."
"Let me say once and for all: we are not naïve free traders. Europe must always defend its strategic interests. This is why today we are proposing a new EU framework for investment screening.."
-Industry: "I am proud of our car industry. But I am shocked when consumers are knowingly and deliberately misled. I call on the car industry to come clean and make it right."
"The new Industrial Policy Strategy we are presenting today will help our industries stay or become the world leader in innovation, digitisation and decarbonisation."
-Fight against Climate Change: "Set against the collapse of ambition in the United States, Europe will ensure we make our planet great again. It is the shared heritage of all of humanity."
-Migration: "Europe is and must remain the continent of solidarity where those fleeing persecution can find refuge. We have common borders but Member States that by geography are the first in line cannot be left alone to protect them. Common borders and common protection must go hand in hand."
– "For me, Europe is more than just a single market. More than money, more than the euro. It was always about values."
– A European Labour Authority: "It seems absurd to have a Banking Authority to police banking standards, but no common Labour Authority for ensuring fairness in our single market. We will create one."
– Dual Foods: "In a Union of equals, there can be no second class consumers. I will not accept that in some parts of Europe, consumers are sold food of lower quality than in other countries (…) Slovaks do not deserve less fish in their fish fingers. Hungarians less meat in their meals. Czechs less cacao in their chocolate."
– Rule of Law: "In Europe the strength of the law replaced the law of the strong (…)The rule of law is not optional in the European Union. It is a must. The judgements of the Court have to be respected by all. To undermine them, or to undermine the independence of national courts, is to strip citizens of their fundamental rights."
– European Minister of Economy and Finance: "We need a European Minister of Economy and Finance: a European Minister that promotes and supports structural reforms in our Member States. We do not need parallel structures (…) The Parliament of the euro area is the European Parliament."
– The fight against terrorism: "I call for a European intelligence unit that ensures data concerning terrorists and foreign fighters are automatically shared among intelligence services and with the police."
-"My hope is that on 30 March 2019, Europeans will wake up to a Union where we all stand by our values. Where all Member States firmly respect the rule of law. (…)Where we have shored up the foundations of our Economic and Monetary Union so that we can defend our single currency in good times and bad, without having to call on external help. (…) Where a single President leads the work of the Commission and the European Council, having been elected after a democratic Europe-wide election campaign."/IBNA