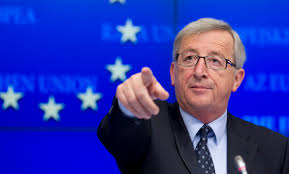 Belgrade, July 10, 2015, Independent Balkan News Agency
By Milos Mitrovic
I have asked support from European Commission president in order regional stability to be preserved, Serbian Prime Minister Aleksandar Vucic said after meeting with Jean Claude Juncker in Brussels on Thursday. Vucic added that Brussels "takes seriously" Serbia.
"Serbia is not afraid of economic reforms", Vucic told national television (RTS) correspondent in Brussels announcing possible Juncker's visit to Serbia in October.
Juncker was "sincere" at the meeting, premier remarked. When asked about the issues he has discussed with EC president, Vucic has mentioned situation in Western Balkans.
He said that economic reforms in Serbia are highly appreciated by Brussels adding that Belgrade has received clear signal that Serbia is welcome to the European Union.
Junker has praised economic reforms in Serbia just as German Chancellor did, Vucic underlined. Earlier on Thursday Angela Merkel has finished her visit to Serbia. On Wednesday she has met Vucic, while yesterday she discussed with President Tomislav Nikolic.
Germany strives to prevent destabilization in the region which may be caused by Islamist extremist's propaganda. "There is a danger that Muslim extremists can affect Muslims in Bosnia and Herzegovina and destabilize Europe",Merkel was quoted as saying by RTS.
Nikolic said that Serbia is "stability factor" in the Western Balkans. He also said that Serbia "is positioned between Europe and Russia which is sometimes good, and sometimes not".
"We cannot give up from both of our friends and this is the problem we are trying to overcome".
Vucic confirms his attendance at commemoration in Srebrenica
Vucic said that he would attend marking 20 years of Srebrenica massacre "despite bad security assessments". "Do I like the atmosphere? Of course I don't", Vucic said adding that what he "dreams" is permanent peace between Serbs and Bosnians.
PM refused to comment Srebrenica resolution adopted by the European Parliament on Thursday as well as certain statements "by some people in the region".
"It's better to refrain, this would be healing for our relations", Vucic concluded.