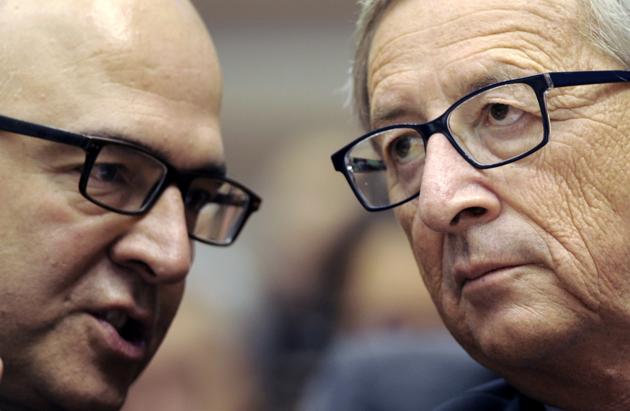 Athens, January 27, 2015/ Independent Balkan News Agency
By Spiros Sideris
European Commission President Jean-Claude Juncker and Finance Commissioner Pierre Moskovisi told reporters, while going in the Eurogroup meeting in Brussels, that they are ready to hear and discuss the demands of the new Greek government.
The two European officials stressed, however, the need to respect the commitments Greece has undertaken with its international lenders.
Jean-Claude Juncker stressed that the Commission will cooperate with any democratically elected government comes to power and reminded that there are rules, which were agreed jointly with the Greek authorities. "We'll see what the demands of the new Greek government are and will discuss them, regardless of its composition, as we do with all governments", he said, noting that he is not nervous on the matter.
The European Commission president noted, moreover, that he was always fond of Greece and that his positive approach to the country does not change.
In regard to the discussions to settle the Greek debt, he said that as there were discussions with the outgoing government of Greece, so the Commission will continue its discussions with the new government. Asked if he has already talked with Tsipras, jokingly, Juncker said that the Greek Prime Minister has other worries today than to speak with the President of the European Commission.
For his part, the French commissioner Pierre Moskovisi described as positive that the Greek government will be formed today, because, as he said, this will enable the Commission to work quickly with the Greek authorities.
As Moskovisi said, the Commission and Greece have common goals and the discussion will focus on how they will be achieved. "We want to see Greece standing on its feet, to be able to create jobs, growth, reduce inequalities, to pay its debts, which is fundamental", he said.
The European Commission noted that the new government of Greece has its own program and its own priorities. He, however, stressed the need to have a constructive dialogue with the new Greek authorities. "I am convinced that we will work together for the same purpose, for Greece to become strong, have a creative economy that meets the needs of the people and with the obvious aim the stay of Greece in the euro", Moskovisi said.
He also hoped the current Eurogroup to send a clear message that will allow the resumption of talks with Greece in a positive and constructive basis and respecting the commitments that have been agreed. Regarding the settlement of the Greek debt, Finance commissioner said the assessment of the Greek program must first be continued and completed. The issue will be discussed at a later stage, he added.
Asked about the future of the troika, Mr. Moskovisi said that there will always be a need for the presence of institutions that helped, albeit with a new form.
With regard to Alexis Tsipras, the French commissioner noted that he still didn't have the pleasure of meeting with him, adding that the door of his office in the Commission is open.