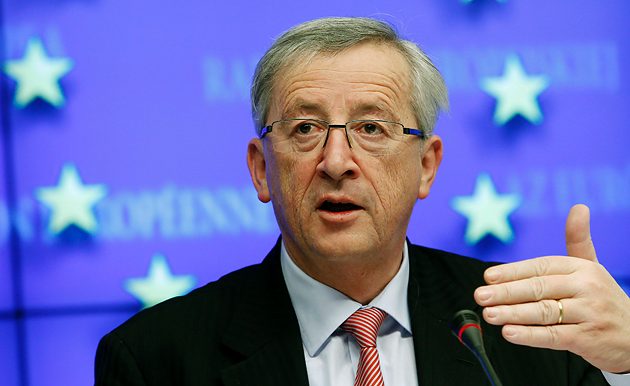 Athens, February 11, 2015/ Independent Balkan News Agency
By Spiros Sideris
Jean Claude Juncker, in an exclusive interview with television Deutsche Welle spoke of the critical negotiations with the new Greek government, the Grexit and mutual concessions.
When asked why he took Alexis Tsipras by the hand to go out of the European Commission press room in Brussels, Juncker answered that he wanted to welcome him friendly and went on to say: "Why should I not welcome him friendly? We are not at a war confrontation with the Greeks and the new government in Athens".
When asked if he shares the view that the Greek Prime Minister has chosen a collision course with Europe and if that was the impression he formed for himself during the private conversation they had, the European Commission president replied:
"No I did not form that impression. We did not agreed on everything, but nevertheless there was a mutual approach of views. I was not able to watch the full speech my colleague Tsipras last Sunday in Athens. But it seemed to me it was a speech that is not dictated by the desire to achieve an agreement with the European partners at any price. Europe, however, has 21 republics and not only the Greek one and is a matter of Mr. Tsipras to determine the content of his positions in order to enable an agreement. Because it cannot only be that the "27" of the EU or the 18 member-states of the Eurozone Member move towards Athens. A mutual displacement is required, which may not be completely symmetrical".
When asked about whether Greece will be forced to leave the euro, Juncker replied that this is not part of his script.
"As stated by Mr.. Juncker", that is not part of my script, it is not in the scope of my radar. I tried for three years as head of the Eurogroup, in order for Greece to not leave the eurozone, not to force it out and to not move itself into the background. Now that things have quieted there is no reason for such scenarios and Mr. Tsipras also said that this is not part of his national plan. We will try together for Greece to remain part of the Eurozone. But this implies that the essential commitments of the rescue plan for Greece will be implemented. This means that the solidarity of one implies the consequence of another. The one implies the other".
The President of the European Commission considers important the report of the Eurogroup on November 27, 2012, which states that "if Greece meet its commitments then the partners could take steps towards its rescue".
Finally, Juncker does not think it is reprehensible that Berlin wants a budget consolidation, neither would it hurt to broaden the agenda of the discussion to include growth and employment.