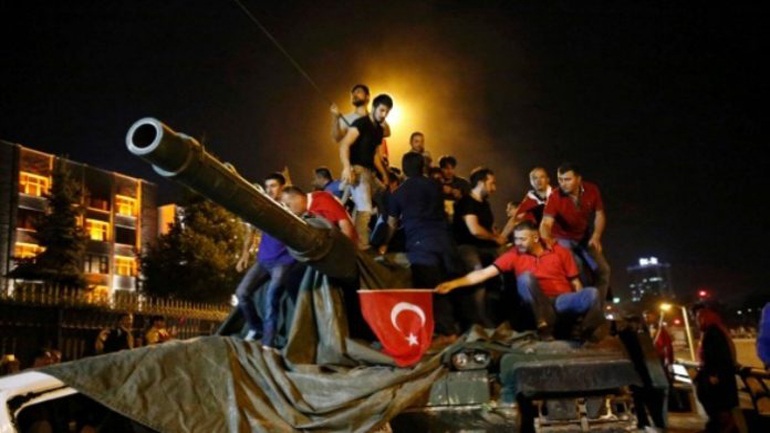 The first trial of the people that have been arrested and accused of participating in Turkey's July 15 coup attempt began in Istanbul on Dec. 27
There is an impressively large number of detainees, that according to the Turkish President Recep Tayyip Erdogan exceeds 41,000 and who are waiting for the date of their hearing.
During the first day of the trial which took place in a specially equipped room in the district of Silivri on the outskirts of Istanbul, the hearing of 29 policemen began.
According to the indictment 21 of the defendants are in danger of being sentenced to life imprisonment as they are accused of "attempting to overthrow constitutional order" and of "attempting to overthrow the government or prevent its operation." The remaining eight are facing sentences of up to 15 years imprisonment on charges of "belonging to an armed terrorist organisation".
In 2011 through 2013 in the district of Silivri, the trials of the alleged paramilitary "Ergenekon" organisation as well as the Balyoz (Sledgehammer) case took place, with hundreds of officers being given heavy sentences. The Turkish government admitted, later, that the charges were "rigged" and the courts imposed unjust sentences thereby lifting all charges from the accused and according to Turkish officials the judges as well as the prosecutors belonged to the Gulen movement currently listed as a terrorist organisation.
In the attempted coup of July 15 at least 270 people lost their lives with at least another 2000 injured. The Turkish government attributes responsibility to the imam Fethullah Gulen, who lives in the US and who denies all charges. Gulen heads a movement called Hizmet; after 2014 the Turkish government  began to refer to it as a "terrorist organisation".
However, during the last week another 1096 people were arrested on charges of being connected to the Gulen movement while 125,000 others are being prosecuted on similar charges. The opposition is accusing the government of unleashing an attack on whomever opposes Erdogan. Among those arrested are journalists, writers, artists.
Meanwhile the Appeals court in Ankara has banned the broadcast of any news or information on the murder of the Russian ambassador Karlof in Ankara. The ban will apply until the police investigation is complete and concerns images taken of the murder, and the information relating to the suspects, witnesses and victims. The prosecutor requested the ban claiming that the transmission of information, may result in harming both the investigation and national security.
The Turkish press has already published stories that show the links the killer had with the AKP party and that he had participated in Recep Tayyip Erdogan's security team many times. At the same time there were reports that showed gaps in the security of the Russian ambassador.
The Turkish newspaper Hürriyet published an interview with the killer' sister where she states that Mevlüt Mert Altintas had been "brainwashed" at the police academy.
Erdogan, accuses Fethullah Gülen for the murder of Karlof. The same is supported by the Turkish Foreign Minister Mevlut Cavusoglu with his US counterpart. However the killer, shouted slogans of Islamic Al Nusra which is linked with Al Qaeda./ΙΒΝΑ