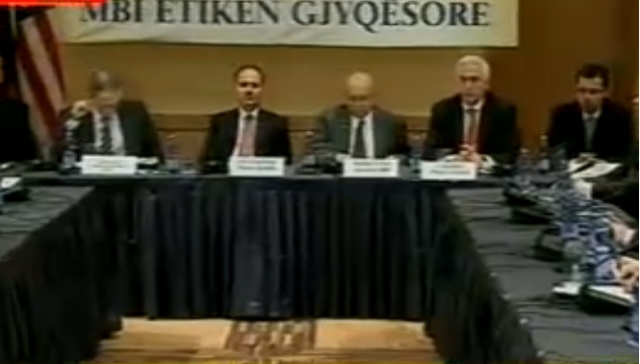 Tirana, November 5, 2013
During a symposium held on the ethics of the judicial system, the US ambassador to Albania, Alexander Arvizu underlined the importance of the judicial system.
According to him, the independence of the judicial system means to be based on laws and facts, encouraging the continuation of progress in order to guarantee the independence of the judicial system, by offering the assistance of the USA in all aspects.
On his part, the president of republic, Bujar Nishani declared that Albania has seen many changes during these years, stressing that there's a consolidated judicial body in the country.
"There's a need for Albanian institutions to commit, therefore I want to express my gratitude for the assistance and cooperation offered by our partners, especially by the USA and other missions attached to the Albanian law enforcement institutions", said Nishani.
Nishani added that the challenge for the rule of law is a never-ending challenge, but which demands its standards.
The head of the state said that there exists a lack of trust by the citizens in the justice system, stressing that it's not fair for the entire judicial body to be represented by a limited number who should face prosecution.
The president said that there are corrupt judges and prosecutors, like there are courageous ones, asking for their positive example to be followed. /ibna/