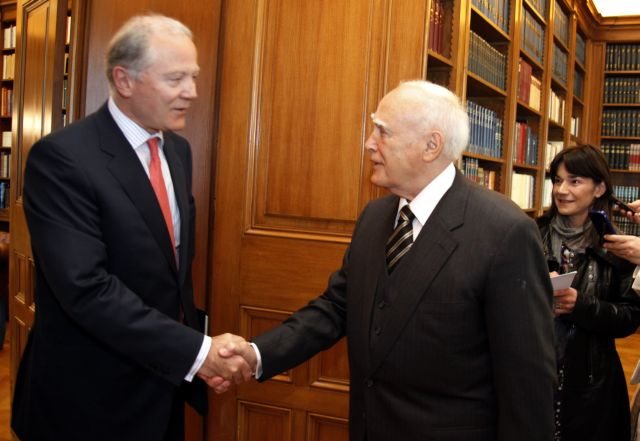 By Lefteris Yallouros – Athens
Bank of Greece Governor, Giorgos Provopoulos told the country's President, Karolos Papoulias, Monday that he expects the recapitalization process for the country's four systemic banks to be concluded in coming weeks.
The process has been long overdue as the initial plan had been for the banks to be recapitalized in the summer of 2012. One year on and procedures finally seem to be reaching a much-awaited end.
The consensus is that three of the country's four major banks (Bank of Greece, Alpha Bank and Piraeus Bank) will attract private investors and eventually raise the minimum 10% of their capital needs privately. Eurobank has already fallen by the wayside and will be fully capitalised by the Hellenic Financial Stability Fund (HFSF).
The others are pulling all the stops to avoid Eurobank's fate. For example, with each share that investors acquire they are offered a warrant to buy several more, in coming years, at the price of the rights issue. For the moment, efforts are reportedly paying off.
However, investors might be put off by the prospects of the Greek economy, a lack of political stability and – more importantly – the banks showing greater losses and bad loans than expected.
According to the IMF, the recapitalization is sufficient to cope with non-performing loans reaching 40% of total lending. However, the ratio (including restructured loans) has already risen to 29.5%.
As things stand, Alpha Bank leads the pack.  A consortium of international banks led by J.P. Morgan has underwritten its rights issue of €457m (the amount needed to reach the 10% threshold for the bank to remain under private control). Altogether, it is raising €550m, 12% of its capital requirement.
Foreign investors, including hedge funds, sovereign-wealth funds and rich Greek families (not only ship owners) have shown great interest in investing in Piraeus and the National Bank of Greece.
At the end of the recapitalization process, the Greek banking sector will be entirely changed with no more than four major banks sharing 90 pct of the market. Should the economy show solid signs of recovery, investing in Greek banks may prove a very shrewd move for those putting faith in them now.