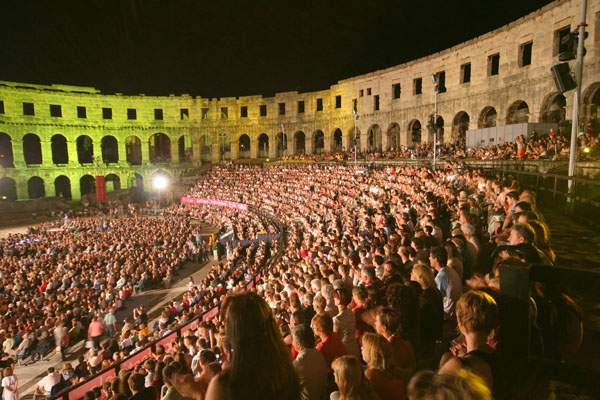 By Natasa Radic – Pula
President Ivo Josipovic officially opened the jubilee 60th Film Festival in Pula, Croatia, on Sunday. After a spectacular fireworks, the opening section of the festival has shown filmography highlights since the launching of the festival 60 years ago until today.
At the opening night, the first film shown in the national competition, was the one directed by the famous Croatian film director Dalibor Matanic and his "Majstori". This year the main section brings fourteen titles, and Matanic and his team, led by actress Areta Curkovic hope to attract the audience in movie theaters after the festival, too.
Besides the regular screening of movies, 60th Film Festival in Pula brings numerous other events, including the 12th Cinemaniac exhibition, which opens in the Multimedia Centre Luka.
A record number of films in domestic production, as well as co-production, is the best birthday gift for the festival that showed during its sixty years to be – simply irreplaceable. There will be 14 Croatian titles screened and 10 minority co-productions, and particularly interesting, recently started festival of the the short films, which brings to Pula a number of young talents.
As Europe seeks unity in diversity, this is how the Film Festival in Pula provides coexistence of national and international programs. It is therefore – and not by chance  – that a friend of 60th  Film Festival in Pula, is the European Union and in this year's program Europolis there will be 12 feature films shown as well as the 18 short films from all EU member states.
Pulica (small Pula) is intended for children – who will be able to see a number of films, and also participate in film workshops. This jubilee festival will be remembered by a number of additional programs and events, entertainment, and music programs.
The Jury of the national program will be chaired by the director and screenwriter Peter Krelja, and together with him producer Stanislav Babic, actress Gordana Gadzic, director of photography Slobodan Trninic and director Damir Cucic will evaluate the candidates for this year's best film in Pula.