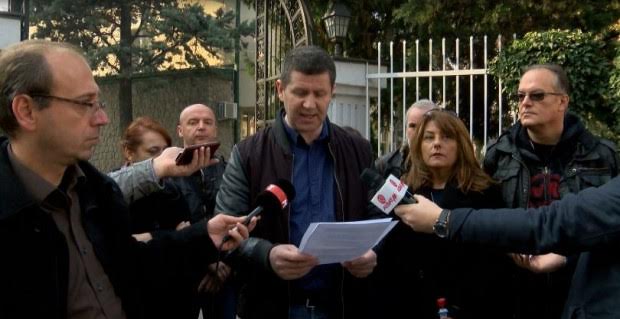 Skopje, 26 November 2015/Independent Balkan News Agency
By Naser Pajaziti
Associations of journalists protested today for their exclusion from the discussions taking place on the bill on media. The regulation of the media issues is part of the political agreement of June 2.
The head of the Association of Journalists of Macedonia, Naser Selmani, said that it's not fair to negotiate on behalf of journalists and the media, without their involvement. "We demand a direct involvement in the talks and we have a number of requests. We will be here to receive negotiating teams from political parties, in order to submit our demands", Selmani says.
According to him, someone is trying to draft a bill and rules for journalists without their involvement.
Selmani underlined the issue of the funding of media as the most crucial element which has made media in the country to depend on politics.
"We demand crucial reforms in the media system in Macedonia, otherwise, the state of the media in the country will not improve. We want to include all the sectors of the media industry in the country, starting from the funding of media, reformation of the public service, namely Radio Television of Macedonia, Media Regulator as a separate body and we will also demand a reform in the justice system, in order for judges who handle cases relating to the media and journalists, to be trained", Selmani says.
Journalist Fatos Rushiti says that politicians cannot decide on the state and the fate of journalists and media. "The problems were caused by politics and they do not have the legitimacy to solve our problems. We insist on being involved in the discussions", Rushiti told IBNA.
Albanian parties BDI and PDSH are insisting to have the second channel of the public radio and television to be reserved exclusively to the ethnic Albanian community and to be funded from the state budget. They have demanded for the heads of this channel to be proposed by the opposition, while the director and vice director to be proposed by different sides.
Opposition parties insist that the public TV channel must not show government adverts, while parties in power, VMRO-DPMNE and BDI want more precise rules as to which media will receive adverts.
The need for all of these changes follows criticism that the country has received from international reports and the European Commission reports, as a country with restricted freedom of speech. /ibna/