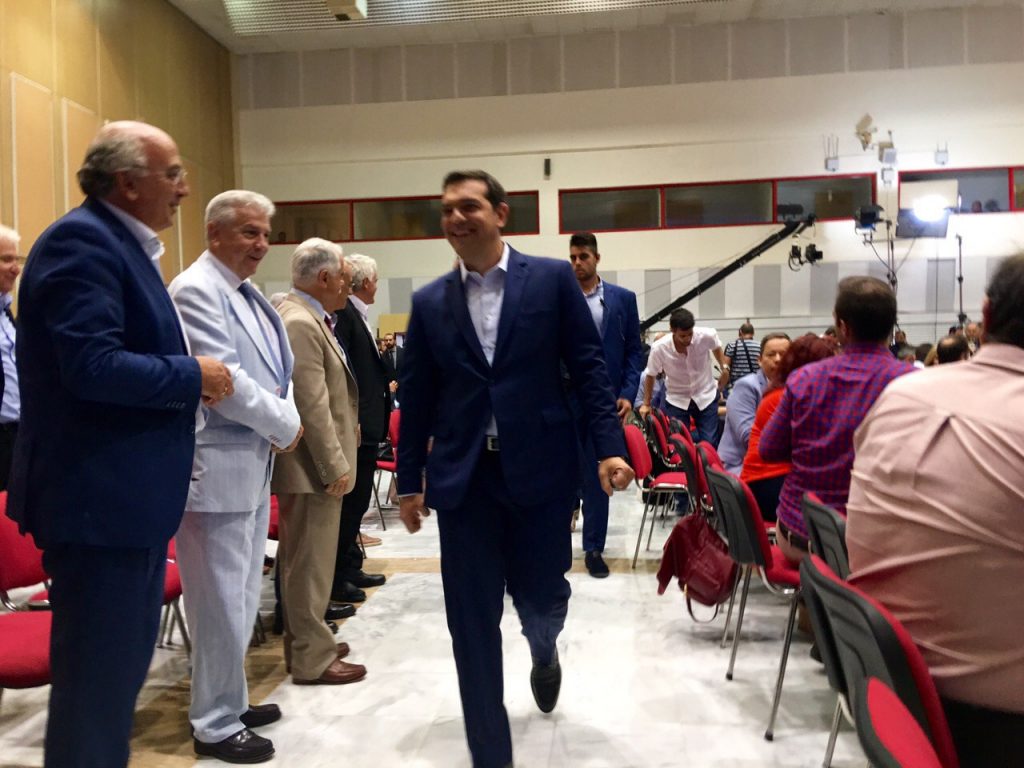 Thessaloniki, September 11, 2016/Independent Balkan News Agency
By  Spiros Sideris
Greek Prime Minister Alexis Tsipras gave a press conference at the Thessaloniki international Fair, in which he presented his vision for Greece that approaches its 200 years since its independence. In a packed hall of Vellideio Conference Center, with strong police forces having isolated the area and with more than 10,000 protesters taking to the streets to protest against Government policy, Alexis Tsipras opened his cards and explained the program to exit from the crisis by focusing on the Equitable Development.
An equitable development based on the pillars of fair burden sharing and the strengthening of the socially valnurable.
Apart from the presentation of his plans, Alexis Tsipras became the first Greek Prime Minister after five years to answer the questions of journalists who crammed the room at the press conference.
A press conference that had a little of everything. Irrelevant questions, personal interventions, clarifications on the program of the Fair Development – all with a strong dose of introspection. Despite the fact that for more than two hours the Prime Minister answered the questions of journalists, negative impression was caused by the interference of two journalists from two national television stations that failed to get a broadcast license in the bidding procedure that was completed a few days ago.
It was the only point where the Prime appeared irritated and showed discomfort when he suffered the personal attack from the journalists, who accused him of being the main responsible for the closure of stations and their forced unemployment.
In bold style the Prime Minister degraded the complaints of journalists and defended the necessity of the restoration of legality in the television landscape. He did not hesitate to acknowledge that the broadcasting landscape did not change with the outcome of the tender, but he did made a call to the leader of the opposition to agree to reactivate the National Broadcasting Council, something which ND failed to do in the previous months.
Alexis Tsipras certainly had much to say, but the permanent disposition of journalists towards introversion resulted in the reduction of the spectrum of subjects to meaningless petty politics, instead of real politics, caged him and deprived him of the opportunity to say what he wanted.
The only question on Foreign policy was made by a Russian journalist, while a mention on the successful meeting of Athens Med Group was made by a journalist of a pro-government radio station.