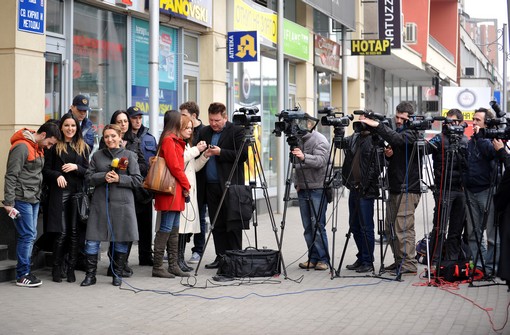 Skopje, June 4, 2014/Independent Balkan News Agency
By Naser Pajaziti
Association of Journalists of Macedonia (AJM) declared today that it will seek justice in the Court of Strasbourg. The request follows the ruling of the Constitutional Court which turned down a request filed by this association.
The association of journalists demanded legal responsibilities for the forceful ousting of journalists in the December 24, 2013 parliamentary sitting, which was associated by the incident between majority and Macedonian opposition, relating to the state budget.
According to the court ruling, journalists left the court room for security reasons, but this was denied by AJM. This association claimed that journalists left following a scenario of the party in power, VMRO-DPMNE, which didn't want the incidents inside parliament to be filmed.
"This decision is outrageous and absurd, but also dangerous for democratic developments in the country. That day, journalists were not part of the incident and they were not in danger. Nobody even sought protection. Constitutional Court defended the abusers of legislative and executive power. This ruling deteriorates the image of the country", said the chairman of AJM, Naser Selmani. He said that along with other journalists and members of the association, they will seek justice in the Strasbourg Court of Human Rights.
On December 24, 2014, an incident took place in the parliament of the country. Security personnel kicked out Macedonian opposition MPs, who had blocked the approval of the 2013 budget. This session was accompanied by physical clashes between opposition MPs and parliament's security personnel. This event received negative feedback by the European Union. /ibna/