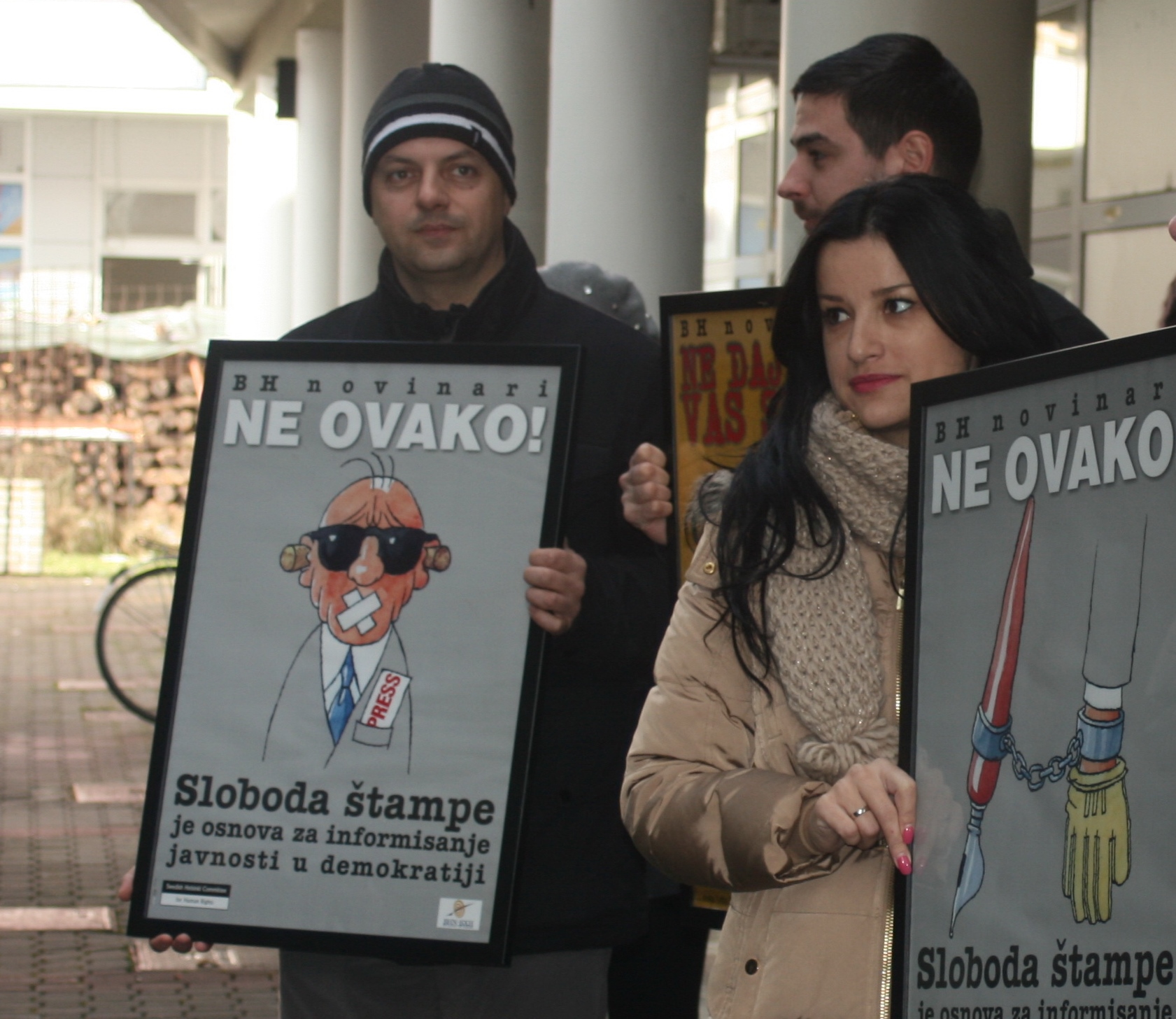 Banja Luka, January 7, 2015/ Independent Balkan News Agency
By Mladen Dragojlovic
Journalist community in Bosnia and Herzegovina demands justice in the repeated cases of violations of freedom of the press in the last several days, which started with the illegal police raid in portal klix.ba newsroom.
The county court in Sarajevo, acting on the appeal by this portal, ruled that the police raid was illegal. According to judgment, Republic of Srpska police and all other agencies which were included in this case must return the documents and technical devices seized in the police operation. Journalist associations welcomed this decision and announced that this year will be a "year of struggle for media freedom in BiH".
After the raid, several other cases against media freedom occured in BiH. In Mostar, editors of internet portal tacno.ba were verbally attacked and in Banja Luka RS President Cabinet refused to issue press accreditations for journalists of BN TS from Bijeljina. This TV station is one of those who are brave enough to criticize RS President Milorad Dodik and his ruling party Alliance of Independent Social Democrats.
Following the worsening of the situation with media freedom, several journalist associations organised peaceful protests in Banja Luka, Tuzla and Sarajevo. Banja Luka journalists announced a public proclamation in which they warned the public in BiH that more than 400 attacks on journalists were recorded in the last eight years. More than 60 times journalists were battered or were under death threats. Just 15% of cases finished with final judgments and in many cases no investigation was conducted. These facts are the reason that journalists demand action of all institutions to protect this profession and for state institutions to create the conditions for media workers to do their job without pressures and threats.
Support to journalists came from EU delegation in BiH, and its Charge d'affaires, Renzo Daviddi. In the written statement to media, Daviddi welcomed, as he said, the strong, visible and country-wide advocacy of the media community in Bosnia and Herzegovina, a key pillar of the country's civil society.
"We encourage them to continue to speak out frankly on all issues of concern in the media sector.  The EU Delegation to BiH/EUSR Office stands fully behind freedom of expression, and fully supports journalists who do their job professionally. Respect for the internationally accepted principles underlying the practice of journalism is of the highest importance. Actions designed to intimidate media houses and individual journalists, and those who commit them, are anti-democratic and are to be condemned. The ability of media to operate without fear and without being compelled to show favour to any side is essential for healthy democracy and freedom of expression. EUD/EUSR underlines that freedom of expression is carefully examined in the EU accession process. Actions that aim to limit media freedom are therefore actions against progress to EU membership, said Daviddi on Wednesday.
He added that a wide range of issues have been raised by recent events, including police conduct, judicial procedure, illegal surveillance allegations, breaches of fundamental rights and corruption allegations. All these issues, emphasized Daviddi, need to be carefully reviewed and properly investigated by the BiH authorities and law enforcement agencies.
"The public have a right to be informed on all the outcomes. EUD/EUSR is following all these matters closely, including in the context of EU accession, and expects that the BiH authorities will ensure equality of all before the law", said Daviddi.