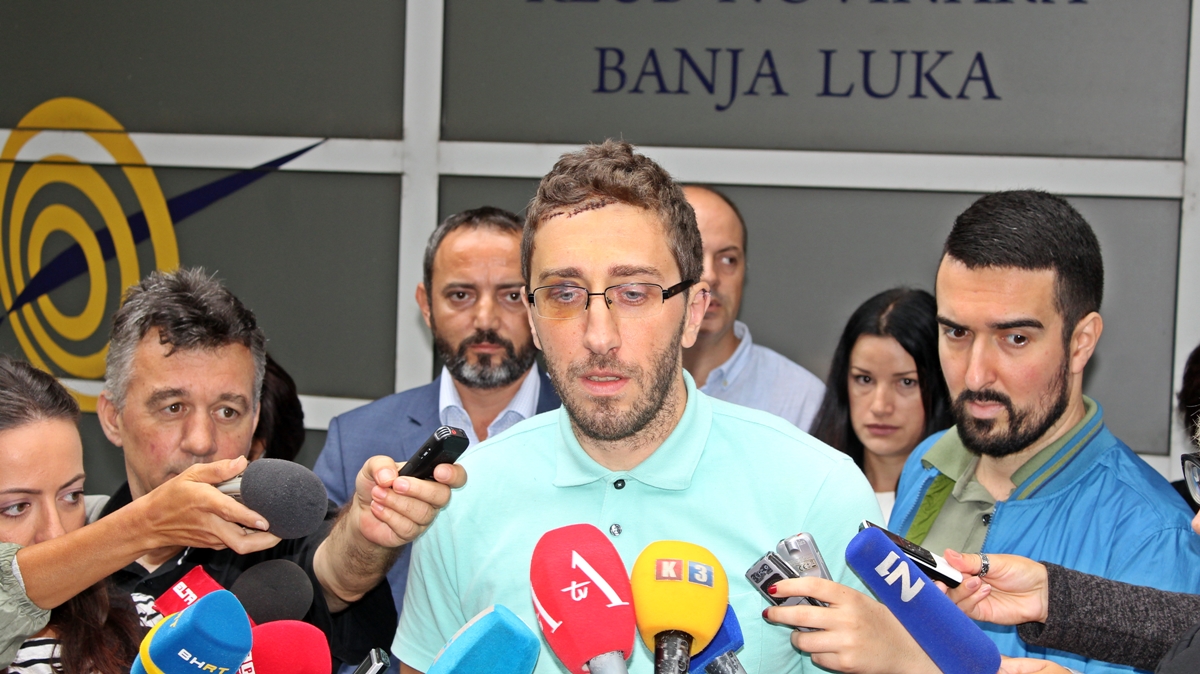 A court in the city of Banja Luka sentenced on Friday the 32-year-old Marko Čolić to four years in prison for attempted murder on journalist Vladimir Kovačević (37).
Alongside Nedeljko Dukić (28), Čolić assaulted the BNTV journalist on August 26th of last year in Banja Luka. The attack sparked outrage and protests among journalists who gathered to express their support to Kovačević.
The motive behind the attack is yet to be determined, as well as the identification of the person who ordered it.
Čolić was found guilty alongside Dukić, who is still on the run, for brutally assaulting Kovačević using metal rods on August 26, 2018, in the Obilićevo settlement in Banja Luka.
A few days ago, Tatjana Ninković, District Public Prosecutor, while presenting her closing arguments, suggested to the Trial Chamber that Čolić be found guilty of attempted murder, whereas the defence pleaded not guilty.
"We have indisputably proved that Čolić has committed the criminal offense of attempted murder against Kovačević. Kovačević identified Čolić twice as the one who appeared in front of him and hit him on the head with a rod," Ninković said during her closing arguments.
She then recalled that witness Darko Savić, during his testimony, confirmed that he drove Čolić to the FK "Naprijed" stadium, near which the journalist was attacked the previous evening. His arrival, Ninković pointed out, can be confirmed by the surveillance video.
"The accusations against Čolić were supported by the DNA findings. On the metal rod, with which Kovačević was hit, Čolić's DNA can be found," Ninković stated a few days ago.
On the other hand, Gordan Jovišević, Čolić's lawyer, said during his closing arguments that it has yet to be proven that Čolić has committed the criminal offense he has been charged with.
Kovačević said that he will not comment on the sentence.
"First of all, I am pleased that this is finally over, regardless of the sentence, since this whole process has mainly fallen on me and has made me even more stressful and frustrated than the fatal night of August 26 last year," BNTV journalist Kovačević stated.
"What is important is that justice is served; in what proportion, it remains to be proven, because we still do not have the names of the ones who ordered the hit. The undeniable fact is that Čolić had no personal motive to attempt murder, alongside his associate. Someone else ordered it, but his identity remains unknown. I hope that he will be discovered in the following investigation, but in a certain way, I doubt it will help in any way for a solution to be reached," Kovačević said.
According to the journalist, in the end one important message stands out.
"A message that can be sent, and is equally important with the punishment itself, is that anyone potentially seeking to attack journalists in the future will think twice before committing such an action," Kovačević stressed./ibna