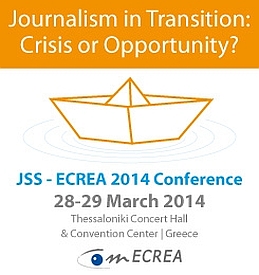 Journalism and the news are in transition – not only in Europe but around the world. This transformation has important ramifications for society and public discourse. News organizations face increased economic pressure, cutbacks in news gathering resources, and shrinking editorial autonomy. As a consequence, the quality of many news outlets is deteriorating, and audiences feel less confident in the news media. Furthermore, changes in media technologies have substantially shaken up long-held beliefs about the nature of news and well-pampered practices of journalism, while the industry still in search of viable business models for institutionalized journalism in the Internet era.
These and other developments have given rise to crisis narratives in journalism research and the public arena, with a few scholars and practitioners proclaiming the "death" or "end" of journalism. At the same time, the manifold challenges faced by journalism today – perhaps unprecedented in its history – can also be considered an historical opportunity. Hence, journalism as we know it is in transition, and journalism research should be able to play a constructive role in this process.
It is for this reason that the Journalism Studies Section of the European Communication Research and Education Association (ECREA) devotes its 2014 conference on the transformation of journalism – its manifestations, causes, and consequences. The conference intends to provide a venue for the theoretical, critical and empirical engagement with these issues in both national and international contexts. Submissions from all theoretical, epistemological, and methodological perspectives are welcome. Proposals may be based on empirical evidence, as well as on critical and/or theoretical interventions. The following four problem areas will be emphasized during the conference, but submissions may well go beyond these areas:
– Manifestations of transformation: Proposals may examine ways in which processes of digitalization and marketization shape the production, content and consumption of news. Attention may be paid to tabloidization, participation, acceleration and fragmentation in the news, a loss of editorial autonomy, the erosion of a professional identity, as well as the increased precariousness of journalistic work.
– Causes of transformation: Submitters may focus on the changes in the technological and economic contexts of journalism, most notably on processes of digitalization and economization. Proposals may assess the extent to which these factors play out in distinct organizational, economic, and regulatory contexts.
– Consequences of transformation: Proposals may focus on the consequences of journalism's transformation on individuals, organizations, and society. Attention may be devoted, for instance, to individualization and increased mobility of news consumption, as well as to the implications of this change for social cohesion and the fabric of the public sphere.
– Theories, concepts and methodologies: Submissions may revisit journalism's conceptual boundaries in light of current developments that may call for a redefinition of news and journalism, with key implications for comparative research.
Organizer
ECREA
ECREA (European Communication Research and Education Association) – Journalism Studies Section
The purpose of the Journalism Studies Section of ECREA is to support academic research that deepens understanding of the cultural, political, economic, social and professional aspects of journalism.
TIts main objective is to promote research on occupational, regulatory, ethical, technological, political, commercial, cultural and educational factors in journalism.
The Journalism Studies Section aims to create a forum for dialogue between academics and practitioners from different disciplines and theoretical perspectives, who employ a variety of research methodologies to investigate aspects of journalism across different types of media, media content and geographical regions.
Host
AUTH
The School of Journalism & Mass Communication of the Faculty of Economic and Political Sciences of the Aristotle University of Thessaloniki was established in 1991. The School offers a balanced blend of courses, compulsory as well as elective. Currently, it offers the following study programmes: undergraduate (directions: "journalism" and "mass communication"), postgraduate (directions: "journalism & new media" and "communication and culture"), taught in Greek, and the Erasmus programme for both directions, taught in English. It also offers PhD programmes.
Agenda
March 27, 2014
18:00 Registration open
19:00 Welcome Reception
March 28, 2014
08:30 Registration open
09:00 – 09:30 Opening session
09:30 – 11:00 Keynote speeches
11:15 – 11:30 Morning Coffee
11:30 – 13:00 The transformation of journalistic labor
Journalism, conflict, and violence
User-generated content and participatory media
The economics of news production
13:00 – 14:30 Lunch
14:00 – 14:30 JSS Business Meeting
14:30 – 16:00 A profession in transition
Theoretical reflections on the transformation of journalism
User commentary and public participation in the news
Trust, credibility and news quality
16:00 – 16:15 Afternoon Tee
16:15 – 17:45 Transforming mediascapes
Representations of protest
Traditional vs. online news
Reporting the economic crisis
19:00   Conference Dinner
March 29, 2014
09:00 – 10:30 Cultural journalism and lifestyle reporting
Foreign and international news
Digitizing the news
Narratives, storytelling and news writing
10:30 – 10:45 Morning Coffee
10:45 – 12:15 Changing newsrooms
Professional identities in transition
Online journalism and the process of public "opinion-making"
Crossmedia, algorithms, and mobile news
12:15 – 13:30 Lunch
13:30 – 15:00 Newspaper journalism in transition
Transformations of foreign correspondents in Europe
Facebook, Twitter, and the news
15:00 – 15:15 Afternoon Tee
15:15 – 16:45 Can we trust journalism any longer?:
How journalism in transition maintains and develops trust
Journalism cultures