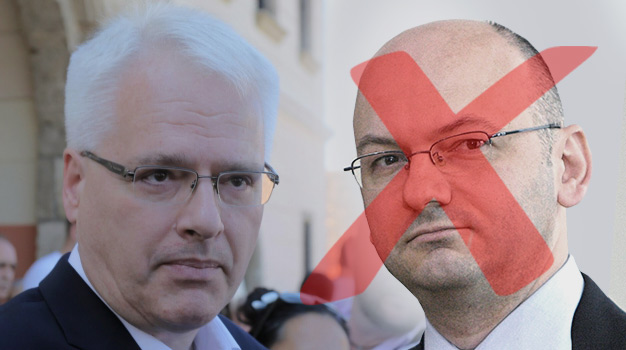 By Marija Avramovic – Zagreb
President Ivo Josipovic dismissed his advisor and chief analyst Dejan Jovic because of his claims that the referendum on the independence of Croatia back in 1991 was non-liberal and anti-democratic, the president's office confirmed today.
"I already said yesterday that I deeply disagreed with his statement. This is a statement that is harmful and wrong, and therefore I made ​​a decision to dismiss Mr. Jovic", Josipovic told reporters.
In an article for journal 'Political Science', published by the Faculty of Political Science, Jovic asserted that the referendums on the independence from former Yugoslavia, with the exception of the Montenegrin in 2006, were not at all liberal.
"Maybe they were 'democratic' if by 'democracy' we mean just the determination of those who are minority and those who are majority", Jovic wrote adding that "they certainly were not liberal because there was not enough freedom for everyone who could have told exactly what they thought, without justifiable fear of drastic consequences".
"President Josipovic, contrary to Jovic, believes that the referendum on Croatia's independence was held in a democratic atmosphere. The referendum was crucial because Slobodan Milosevic's politics and tanks threatened Croatia", the statement of President's Office noted.
The main opposition party, Croatian democratic union (HDZ), called for emergency press conference  where HDZ's MP Vladimir Seks rated Josipovic's decision to dismiss Jovic motivated by an estimation that Jovic's retention would jeopardize the campaign for presidential election.
"Presidential advisers cannot be autonomous in relation to the president. In political jargon, they share the same political stands and are at the same side from values point of view. There cannot be such a discrepancy with the major political issues, because then the public will draw conclusions  such as, if this is your political advisor, who advices who or who's the boss of who", said Seks.
President of the Croatian Dawn party Milan Kujundzic declared that Josipovic's dismissal of his chief analyst Dejan Jovic showed the peak of his hypocrisy and egoism, by giving up the person for his personal gain.
Kujundzic argued that the president should not have renounced Jovic "when the whole of Croatia was clear that based on what this man says and writes he cannot be advisor to the Croatian president".