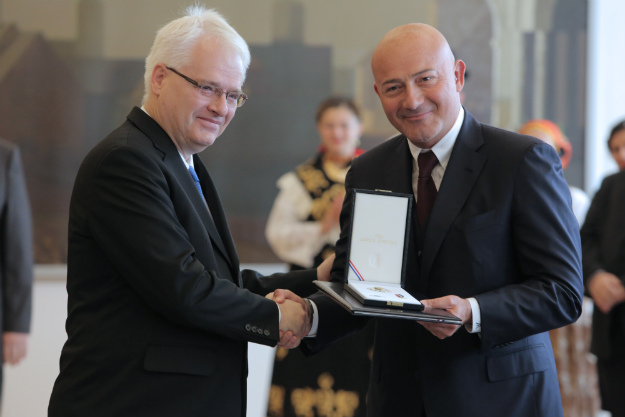 By Marija Avramovic – Zagreb
On the occasion of Independence Day, President Ivo Josipovic presented medals and awards as well as a congratulatory message, in which he wished all Croatian citizens bright future.
"Dear citizens of Croatia, I congratulate you for Independence Day. This is one of the most important days of Croatian history, which we proudly commemorate and this is certainly a new opportunity to the wish a good future to the Republic of Croatia and the citizens of our country", Josipovic said after the awards ceremony.
Croatia tomorrow celebrates its Independence Day, hence Josipovic stressed that it was a day when in dramatic circumstances, in 1991, a final decision of an independent Croatian had been issued.
"We remember that the decision was made under pressure from the armed forces that attacked Croatia. But, even history has proved that patriotism, the desire for freedom and independence is stronger than any aggressor",  he concluded.
At the ceremony, Josipovic said that all who were honored were an example of how dedication, perseverance, hard and honest work had a lasting value and deserved the public respect of the entire community.
He also expressed his satisfaction that among the honoured were some foreign citizens saying that by this "we testify that borders are not a barrier to the recognition of success, knowledge and human virtues".
The owner of the Turkish corporation Dogus Holding Ferit Faik Sahenka was awarded The Order of Croatian Danica with Blaise Lorkovic' figure for special merits in the economy.
The Order of Croatian Danica with Marko Marulic's figure, which is given for culture accomplishments, was rewarded to Professor Milorad Nikcevic.
Nikcevic, in the name of all awarded and the winners, acknowledged and thanked saying that the awards they received, sublimate their overall performance and evaluation of their work.
Croatia's national award for promoting music and pedagogical activities posthumously received maestro Milan Horvat, world famous composer and conductor, while the award was received by his wife Nevenka.
The Order of Danica Hrvatska is the thirteenth most important medal given by the Republic of Croatia and it was founded on April 1, 1995.