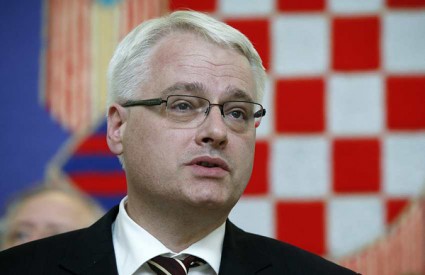 By Marija Avramovic – Zagreb
Croatian President Ivo Josipovic said in today's interview for "Vecernji list" daily that there is a possibility to bring a proposal to the citizens for a referendum for a new constitution, in which there will be part of the changes applied to the elections, the further democratization of the electoral system and the political life within the political parties.
"As an authorized proponent I will be proposing ideas and suggestions that, as things stand now, most parties find unacceptable and will be difficult for them to collect a two-thirds majority in Parliament", Josipovic said.
He added that he is ready to bring a proposal for a complete review of the constitution to a referendum, but with the cooperation of those policy options and non-governmental organizations that will be able to make the changes to the referendum succeessful.
Josipovic said that an expert committee for amending the Constitution is discussing the preferential choice of representatives. "It is obvious that citizens want a greater influence over the selection of candidates, which can be achieved with preferential ballots, but it needs to be carefully regulated to avoid anomalies, especially in the so-called coalitions between large and small parties, where there is an artificial focus of the voter's choice", he noted.
According to Josipovic, the greater influence of voters can be achieved with the introduction of majority elections in smaller constituencies or at the very least least half of the MPs to be elected in this way. There are also proposals in  how to make MPs accountable, not just to the leaders of their parties, but to the voters as well, with the possibility of a possible recall of the MPs in question, to avoid misuse of the vote given to them by the people.
"So, I support the reform of the system and greater citizen participation in deciding who will, in first and last name, be a member of parliament",  Josipovic said in the interview.
Asked if there's time to reform at least part of the electoral legislation by the end of the year, he answered that he does not know if it is possible.
"This is a process that takes a lot of coordinating and strong political will. And if such political will is formed, it must not be rushed, because it is a very important and sensitive issue for our democracy. We must not make the mistake and find ourselves into a system that will prove to be ill-considered. There is not much time left and there are the presidential elections so I'm afraid that there will be no consensus for such large interventions", Josipovic added.