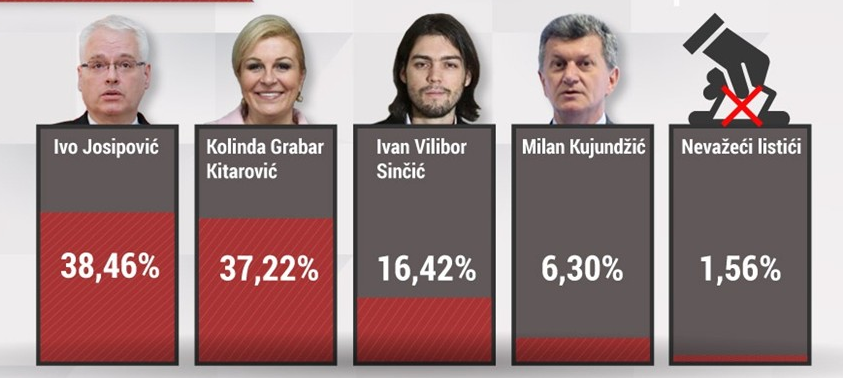 Zagreb, December 29, 2014/ Independent Balkan News Agency
By Marija Avramovic
According to preliminary, unofficial results of the State Election Commission (SEC), the incumbent president, Ivo Josipovic, closely won in the first round followed by the HDZ candidate Kolinda Grabar-Kitarovic, who lags behind him only by 1.24% and with these results the presidential race in Croatia will be entering its second round.
Josipovic won 38.46% of the vote, with Grabar-Kitarovic getting 37.22%, while the turnout was slightly more than 47% of the registered voters.
Complete official results of the first round of the presidential election could be announced during Tuesday, after which the deadlines for objections are starting, president of the SEC Branko Hrvatin said at a press conference.
The race between current president Josipovic (SDP) and Grabar Kitarovic (HDZ) for the head position of the state, according to the analysts will be rougher in the second leg of the campaign. Key to the election victory will be to win over the votes of Ivan Sinčić (Living Wall), who with more than 16% of the vote is the biggest surprise of these elections.
Political analyst Davor Gjenero predicts the campaign in the second round to be worse than before.
"Josipovic showed that he was extremely nervous, and will now become even more nervous, so his campaign will become even dirtier than it was previously", Gjenero said.
Grabar Kitarovic, according to Gjenero, will not be changing her tactics in the campaign for the second round.
'She spoke to the electorate of the center, has been sending extremely moderate messages and relies on the strong infrastructure of her party. It proved to be a winning scenario", Gjenero noted.
He also considers that Grabar Kitarovic has all the reasons to "put champagne on ice, while Josipovic has a reason to clean up his desk in Pantovcak".
Among the many foreign media reports about the elections the most embarrassing and interesting was the BBC's.
BBC news on elections was illustrated with the picture of current president Josipovic and a woman who was definitely not Grabar-Kitarovic.