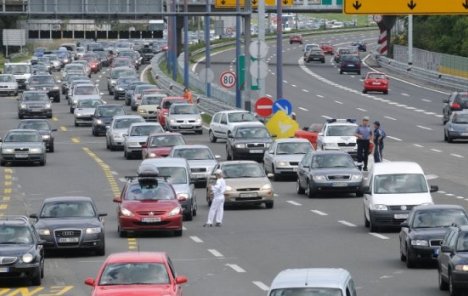 By Marija Avramovic – Zagreb
President Ivo Josipovic estimated last night that the decision for a referendum on banning the monetisation of highways will most likely take place, pointing out that in that case the price of tolls or gasoline might increase for the purpose of providing the necessary funds for the repayment of loans raised for the construction of these highways.
"If enough signatures for a referendum are collected, and it seems that they will, it is obvious that the result of the voting will be the prohibition of the monetisation of highways and the story ends there. I do not think we should continue discussing on the matter", Josipovic told reporters in Split.
Referring to the collection of signatures for the referendum to ban the monetisation of highways, the president stressed that those who are thinking of voting for the prohibition of the monetisation, must know that the money for the repayment of the loans that were used for the construction of these highways will need to be raised from other sources.
The organizers of the referendum initiative "will not give up our highways" announced on Monday that the collection of signatures was completed and that they had collected enough – more than 450 thousand signatures.
"Amassing the signatures is followed by the processing of signatures and the referendum, so the government should come up with other ways for dealing with the debt which is a result of getting loans for the construction of highways", the Initiative indicated.
"If someone offers ten billion euros, we would think about it, but if someone proposes us two billion euro, then I would say it was out of the question", Josipovic said, adding that for him, the issue of monetisation is "an issue of calculations, mathematics and appropriate business decisions".
He also commented on the protest of veterans in Zagreb, recalling that his first consideration is "the lives and health of these people".
Josipovic reported that the protesters, during his visit to their tent at the protest, complained about not realizing or difficulties to realize certain forms of rehabilitation, and this, he stressed, needed to be addressed.
"However, strictly political demands cannot be resolved there", he said.
Late last night in front of the Ministry of Veterans, a still unknown male person set himself on fire, with the cry that he came "to kill himself because of the government of Zoran Milanovic".
According to initial information, the man drove in front of the ministry and briefly greeted the veterans around the fire and then suddenly and quickly poured a flammable mixture, took a branch with the flame from the fireside, and he soon turned into a flaming torch.
Another person was lightly injuries while trying to help him.