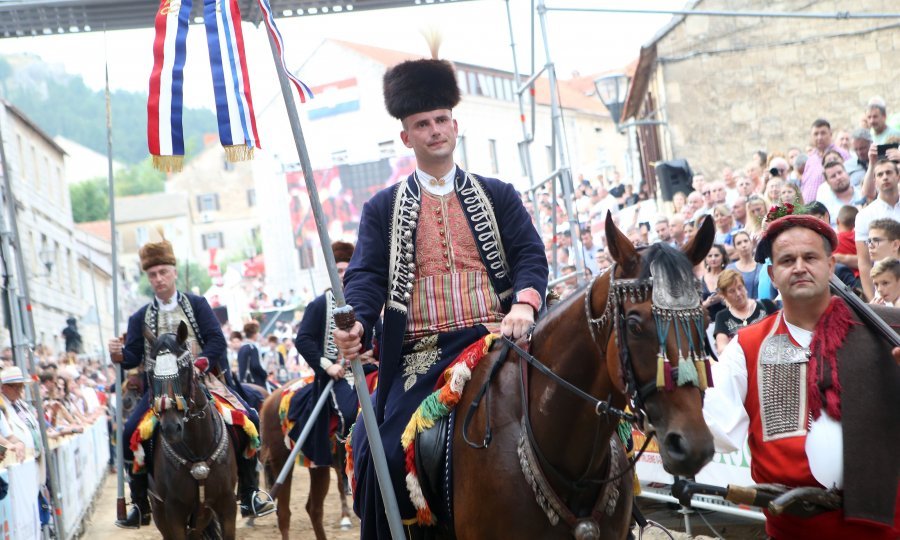 This year's final of the three-day equestrian competition of Croatia, known as Sinjska alka was as always held in the Croatian town of Sinj the first Sunday in August (05/08/2018) as has been happening since 1715 when it was first held.
The 2018 winner of the 303rd edition of the prestigious lancing tournament is Josip Cacija who scored eight points in three runs.
"The event features period-clad horsemen riding at full gallop", explains HINA, "and aiming their lances at an iron ring, called the alka, which is suspended from a rope above the race track."
Croatia's news agency HINA reported that Sunday's spectacle in Sinj attracted several thousand people, including senior state officials, local government leaders, church dignitaries, foreign diplomats, and public figures, among them the President of the country, Kolinda Grabar Kitarovic and Prime Minister Andrej Plenkovic.
The state head who is the patron of the tournament, "presented the winner with a sabre and a gold ring with the Croatian coat of arms and his attendant with a yatagan Ottoman knife and a silver ring."
A drop of history
The equestrian competition commemorates the Croatian-Venetian victory over Ottomans on August 14, 1715. Around 700 Christian Croats joined forces with a smaller number of Venetians and victoriously defended Sinj against 60,000 Ottoman soldiers led by Mehmed-paša Ćelić.
The Sinjska Alka tournament is part of UNESCO's world intangible cultural heritage in the list of which it was inscribed in 2010…. / IBNA
Main Photo: Winner at Sinjska Alka 2018 tournament, Josip Cacija