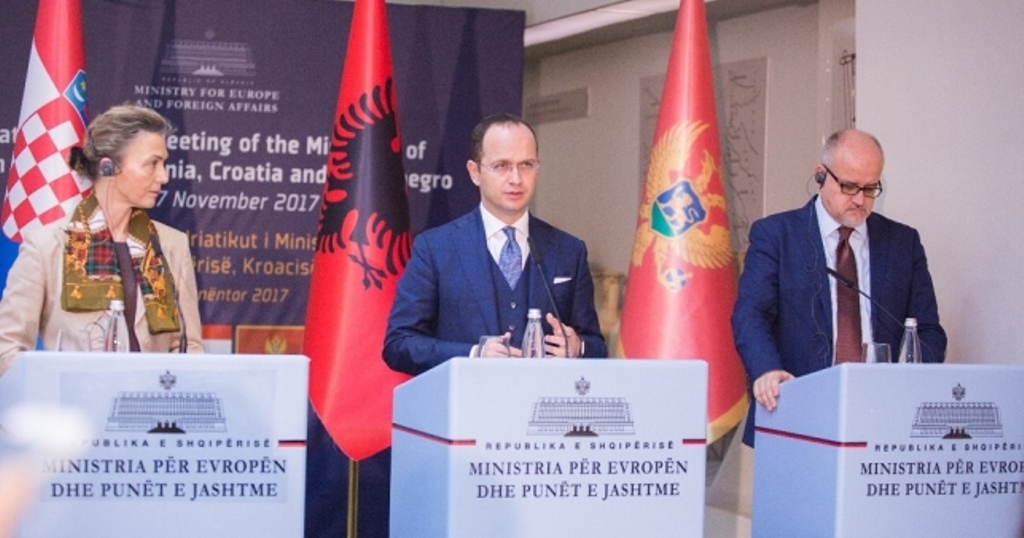 Minister for Europe and Foreign Affairs of Albania, Ditmir Bushati, Deputy Prime Minister and Minister of Foreign and European Affairs of Croatia Marija Pejčinović Burić and Minister of Foreign Affairs of Montenegro, Srđan Darmanović, met in Durrës, Albania, on 17 November 2017 for the second meeting of the Adriatic Trilateral Ministerial among Albania, Croatia and Montenegro.
Recalling the Joint Declaration adopted at their first meeting in Split, Croatia, on 10 February 2017, Ministers reaffirmed the importance of this strategic platform of cooperation between the three countries, as a valuable mechanism contributing to the security, stability and prosperity of the South East Europe.
Albania and Croatia congratulated Montenegro for its recent accession to NATO. In this respect, Ministers expressed satisfaction and highlighted the importance of NATO continuum along the Adriatic Coast which further contributes to the stability of the Euro-Atlantic area as a whole. In addition, this will enhance security and stability of South East Europe and encourage other aspirants to continue with their reform agendas.
Ministers discussed current security challenges. They underscored the importance of joining efforts, together with other members of the Alliance, so as to bolster the response to threats to stability and security of Euro-Atlantic area.
Ministers devoted special attention to challenges aiming to derail the Euro Atlantic integration of the South East Europe. They concluded that strategic communication and credible integration processes should be stepped up in order to counter those influences and strengthen resilience entrenching stability and security of South East Europe.
Ministers highlighted the paramount importance of the European enlargement to the Western Balkans as the most powerful drive towards increased prosperity and security of the entire area. Ministers of Croatia and Montenegro expressed full support for the speedy opening of EU accession talks with Albania.
Ministers reaffirmed that stability and security is a key precondition for the overall development in South East Europe. Ministers informed about current and future projects as part of national agendas in infrastructure, energy and tourism. Ministers convened that a better interaction among the participating countries in this part of Adriatic Europe is of shared interest. To this end Ministers reiterated the necessity and encouraged joint platforms of cooperation among different national institutions in order to have coordinated actions in substantiating efforts in projects of common interest.
Ministers recalled the paramount importance of the Blue Corridor and the Ionian Adriatic Pipeline as regional projects which strategically interconnect Albania, Montenegro and Croatia. In this framework, Ministers agreed to focus on the incentives and possibilities that would help to speed up the implementation stages and work jointly to address the financial support for both projects.
Ministers reiterated, once again, that the Adriatic Trilateral is an excellent example of how likeminded countries can join their efforts to offer better synergies to the common regional agenda, as well as to effectively address internal and external challenges in South East Europe.
Ministers agreed that the third Adriatic Trilateral Ministerial will take place in Montenegro in 2018.