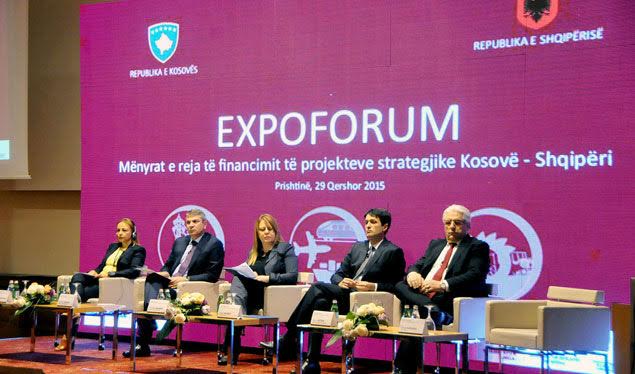 Pristina, 29 June 2015/Independent Balkan News Agency
By Elton Tota
The creation of a joint market between Kosovo and Albania is necessary and time has come to make joint investments.
This was declared by Gjergj Buxhuku, head of AlbKonfindustria, in the Expoforum organized by the Ministry of Diaspora, dubbed "New ways of funding strategic projects Kosovo-Albania", being held today in Pristina.
According to Buxhuku, one important prerequisite is the strengthening of the current markets and the launch of active projects by the countries that want to launch a search for private companies to invest.
"Both governments have started to realize the importance of this potential. The Ministry of Diaspora has continued the creation and consolidation of business networks which will turn into a partner of economic development and the removal of the barriers between the two countries and the creation of a joint market would facilitate doing business even more", Minister Murati said.
On the other hand, minister of Energy and Industry of Albania, Mr. Damian Gjiknuri said that the Kosovo's and Albania's capacities in the domain of energy have remained unexplored.
"We need foreign investments, to open our markets, because we  cannot be attractive without a sustainable market. The role of the state is to facilitate investment and promote projects. We are lacking projects. We have capital, but we're lacking projects", Gjiknuri said.
Minister of Trade and Industry of Kosovo, Hykmete Bajrami talked about the efforts being made by this industry in regulating the legal and financial infrastructure for foreign investments, stressing the importance of starting the National Committee for Economic Development, which will directly address the demands of possible investors. /ibna/