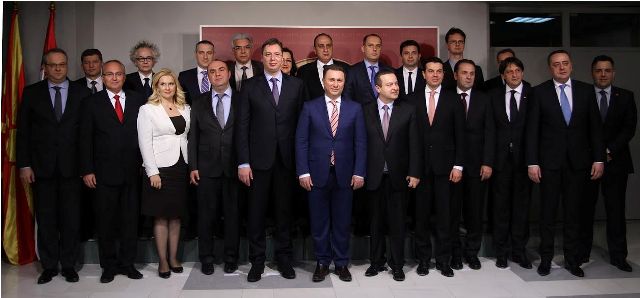 Skopje, February 16, 2015/Independent Balkan News Agency
By Naser Pajaziti
The second joint meeting between the governments of FYR Macedonia and Serbia was held today, chaired by PMs Nikola Gruevski and Aleksandar Vucic.
After the meeting, a news conference was delivered and several cooperation agreements were signed. President in this session were also Albanian ministers of BDI, who were absent in the first meeting held in Belgrade.
The Serb PM Vucic has considered the meeting held in Skopje as productive.
"This was a more successful meeting than the first meeting held in Belgrade. It was successful because we finalized many issues through these seven agreements and through other projects that we will implement within this year and within 2016", underlined the Serb PM.
PM Nikola Gruevski underlined that the second meeting is proof of an excellent cooperation between the two governments, in the framework of cooperation with neighboring countries. According to him, the seven agreements signed between ministers of both countries, will provide a new impulse to economic cooperation and other domains between Serbia and FYROM. "We have agreed on basing our political relations on further strengthening of cooperation and concrete economic projects for the prosperity of both countries", said Gruevski.
The first meeting between the two governments was held in June 2013, while such meeting was also held with Bulgaria. Skopje is yet to hold a meeting with Tirana or Pristina, however, in the last visit of Kosovo's Foreign Minister, Hashim Thaci in Skopje, it was announced that such meeting with Pristina will be held within June. /ibna/