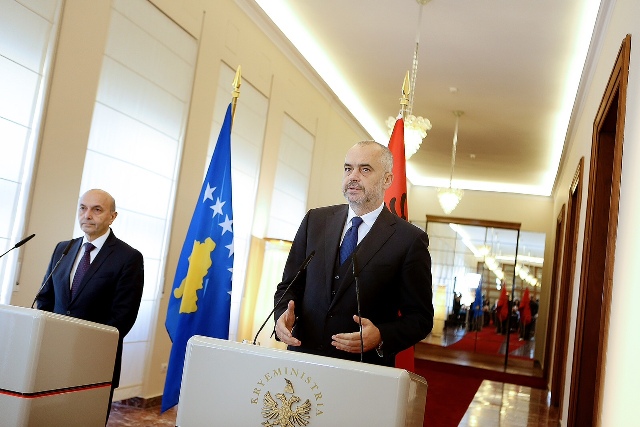 IBNA Special Report
Pristina, March 23, 2015/Independent Balkan News Agency
By Elton Tota
Governments of Kosovo and Albania will hold today in Tirana a joint meeting, which will be presided by the prime ministers of the two countries, Isa Mustafa and Edi Rama.
As it has been announced, today's meeting of the two governments will discuss bilateral issues and several agreements between the two states are expected to be signed.
The two governments are expected to talk about the integration of the two countries, regional cooperation, advancement of economic growth, increase of commercial exchanges and joint projects in infrastructure and domains such as tourism, education and culture.
The second meeting between the government of Albania and Kosovo being held today in Tirana, is expected to be more productive as far as delivering the tasks emanating from the document of strategic partnership approved in the meeting of Prizren on January 11, 2014.
The motto of this meeting will be "One land, one nation, one dream".
The two government leaders have expressed their optimism about the success of this meeting, by saying that it will open a new chapter of cooperation between Albania and Kosovo.
"The priority of the government that I chair is cooperation with Albania, through a coordinated policy for our joint interests, for the interests of Albanians in the region and the building of cooperation on issues of a regional character and process of Euro-Atlantic cooperation. Never before have our countries had a more favorable situation in order to draft joint policies in all domains, which tie us and make our bilateral issues special", Mustafa declared.
Prime Minister of Albania, Edi Rama has also considered this day when the two governments are expected to meet in Tirana, as very important.
"Today's a very important day in order to take other steps in the meeting between the governments of Albania and Kosovo", Rama declared.
"The two governments will discuss issues of tangible cooperation in border areas, by offering the necessary conditions for a unified development plan in the communes of Djakovica, Tropoja, Has, Prizren, Kukes. The commitment of the two governments is in the spirit of the Berlin process and other west Balkan countries have also been involved in projects", Rama declared.
The president of AKR, Behgjet Pacolli said that he's some sort of "pioneer" of the idea that the government of Albania and the government of Kosovo should hold joint meetings.
Pacolli said that he came up with this idea of a joint government meeting in March 2011, when in the quality of the president of Kosovo, he addressed to the parliament of Albania. He says that he expects two things from such meetings: institutionalization and seriousness.
According to him, there are plenty of models for such cooperation, also mentioning the model of the European Union. /ibna/