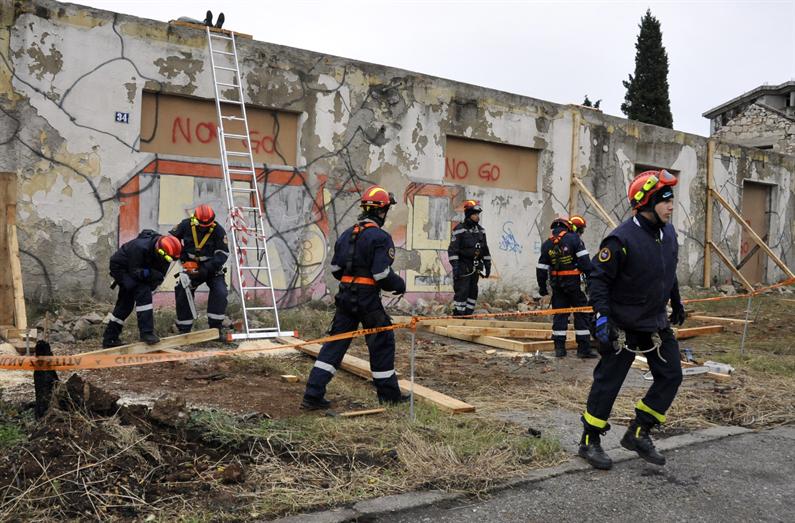 By Adnan Prekic – Podgorica
An international earthquake simulation exercise "IPA MNE QUAKE 2014″ was successfully completed. During the four-day exercise, about 400 rescuers from Montenegro, Serbia, Croatia, Slovenia, FYR Macedonia, Turkey, Albania, Kosovo and Bosnia and Herzegovina participated in search and rescue from the rubble. The importance of exercise ,"MNE QUAKE 2014" comes into play in situations similar to this year's floodings in Bosnia & Herzegovina and Serbia.
Interior Minister Rasko Konjevic said that Montenegro by organizing the exercise "confirmed the ongoing efforts to improve the protection and rescue system, and all in order to strengthen both national and regional capacity building cooperation and understanding". He said that Montenegro in September became the 32nd member of mechanism for Civil Protection of the European Union. By being part of this mechanism we continue the process of strengthening and improving the system, and we will increase the quality of responses to emergencies and also enable the use of human and material resources of other countries on the occurrence of adverse natural and other hazards. Also,  the procedure of seeking and receiving assistance will simplify as well as logistical support in obtaining information on the human and material resources, including hiring additional resources required to ensure rapid response", said Konjevic.
State Secretary of Slovenia Milos Bizjak said that the exercise clearly demonstrates the commitment of Montenegro and the countries of the region to the mechanism of the European Union for Civil Protection and the regional cooperation in the field of disaster management. He continued saying that Slovenia "intensive supports the candidates and potential candidate countries from the region on their way to the EU".
The Director General of the Directorate for Civil Protection and Humanitarian Aid of the European Commission Klaus Sorensen said that the exercise has an economic dimension. Raising the level of protection creates a better climate for investment and security attracts investors, said Sorensen. He added that no member of the EU is perfect and that's why the states should learn from each other.
The "IPA MNE QUAKE 2014" exercise is part of the "civilian protection for the candidate countries and potential candidates", the scenario of which was based on the devastating earthquake that struck Montenegro in 1979.