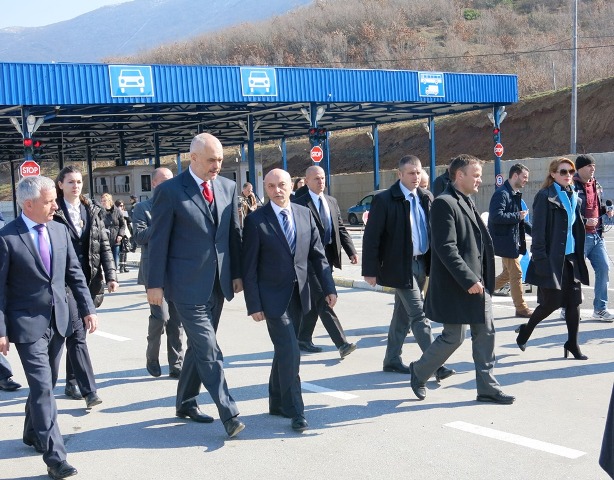 Tirana, February 16, 2015/Independent Balkan News Agency
As of today, Albania and Kosovo have a single customs office, which unifies all procedures in the border crossing point of Morina. Albanian PM, Edi Rama, along with Kosovo's PM, Isa Mustafa, accompanied by ministers of both cabinets and customs officers from both countries, participated today at the ceremony of inauguration of the joint Customs Office.
Albania's head of Customs, Elisa Spiropali said that the unique office will lift barriers for businesses and will bring the markets of both countries closer to each other.
Kosovo's PM, Isa Mustafa said that such agreements make the ties between the two countries stronger and cooperation more efficient.
Meanwhile, Albania's PM, Edi Rama, said that "the transit of goods between Albania and Kosovo is no longer an international transit, as it was considered up until yesterday, but it's the unification of the customs office, a single customs office for both countries".
"It's no longer a double cost in time or money. There are no more two guarantees or several procedures, but it's a single procedure in a digital data network, that unifies into a single path both systems of the same language", said Mr. Rama.
The unification of customs was decided in Prizren, in the only joint meeting held so far between the two governments.
Thanks to a joint digital data system, the procedures of passing merchandize from one side of the border into the other only take five minutes.
Before, this procedure used to take up to two days. By eliminating this time, experts believe that business costs will be significantly reduced.
As of today, Port of Durres is the only check point for all goods that arrive to Durres with Kosovo as destination. The procedure in Durres is enough for products to end up in Pristina or anywhere else in Kosovo, without the need to stop and start procedures again in the customs of both countries, as it's been the case so far.
In the domain of economic cooperation, the agreement for the avoidance of double taxation and prevention of tax evasion is currently in force.
Sources from the Albanian government told IBNA that another move in the domain of insurance is expected to be made in the framework of insurance. The guarantee given in Albania's customs territory is expected to be valid in Kosovo's donating territory and vice versa.
Meanwhile, both governments have decided this summer to introduce an entirely new regime on the border, where there will no longer be inspections for each car and other vehicle, with which families from Kosovo travel to Albania to spend their holidays.
The inspection will be random, thus turning customs into a crossing point and not a check point. /ibna/