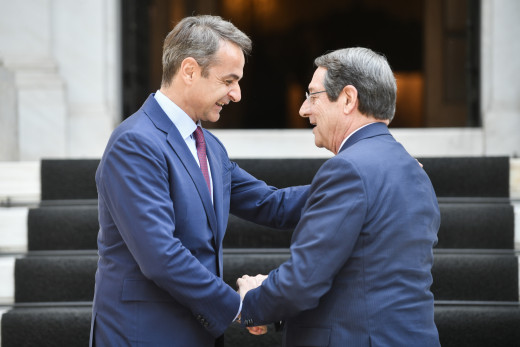 Greece's leader Kyriakos Mitsotakis and Cyprus' Nicos Anastasiades, through a joint statement following their meeting, reaffirm their "absolute will" for substantive negotiations to be relaunched, that will lead to a viable and functional solution for the Cyprus issue.
They make it clear that they are talking about a solution without guarantees and foreign troops, on the basis of international law, in accordance with the UN resolutions and decisions, as well as the principles and rules of the European Union.
To this end, they declare themselves ready to cooperate with the United Nations as part of the initiative commenced by the UN Secretary-General for the resumption of effective negotiations, in order for the Cyprus problem to reach a comprehensive settlement.
During the meeting at Maximos Mansion, Nicos Anastasiades briefed Kyriakos Mitsotakis on the latest developments around the Cyprus issue. Specifically, he informed him of his informal meeting with the Turkish-Cypriot leader Mr. Akinci on 9 August, and of his first consultation on the terms of reference, as well as on his efforts with the UN Secretary-General's Special Envoy Miss Lute for the conclusion of the Terms of Reference, which will allow the negotiations to resume, but also on the obstacles Turkey subsequently raised.
Detailed information was also provided on Turkey's aggressive and illegal activities within Cyprus' EEZ and territorial waters and on Famagusta, as well as on the extreme intolerance Turkish Foreign Minister Mevlüt Çavuşoglu showed during his illegal visit in the occupied territories. The two leaders expressed strong opposition and concern about Turkey's illegal offshore operations, plans and statements in the enclosed area of Famagusta.
They agreed on joint actions, in order to counter the illegal Turkish activity. They also expressed the common position that Turkey should put an end to these actions and help create the right climate for discussions. /ibna