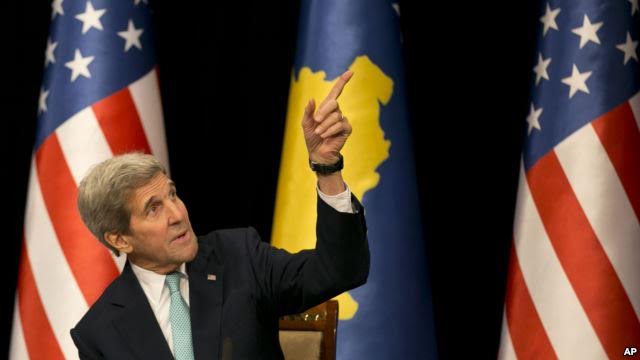 Pristina, 3 December 2015/ Independent Balkan News Agency
By Elton Tota
The visit and advices given by the US Secretary of State, John Kerry have been commented by the political class and analysts in Pristina.
Deputy Prime Minister of Kosovo, Hashim Thaci declared that the visit of the US senior official was very significant for Kosovo.
"The messages were clear: USA remains committed to be Kosovo's partner. Those who helped in our liberation and independence, are also helping us to strengthen and become EU and NATO members. If we join forces and talk in the institutions that we have created, nothing will stop us", Thaci declared.
Self Determination, the largest opposition party in Kosovo, considered the visit of the US Secretary of State, John Kerry as very important, while criticizing the government for what he considered to be a misuse of the American support.
A press statement issued by this party says that Kerry's visit "was the visit of a honorable official of an ally country and as such, he's respected by the political class and citizens of Kosovo. Kosovo's geopolitical orientation in this world which works in the logic of camps, has been clearly defined and has no other alternatives".
But according to Self Determination, "government of Kosovo is not using America's support to prevail over Serbia, but to help Serbia's projects in Kosovo".
Meanwhile, experts of political affairs in Kosovo told IBNA that the messages of the US State Secretary, John Kerry are expected to soften the political climate in the country.
Analyst Lumir Abdixhiku says that US senior official addressed clear criticism and advices for the majority and opposition.
"Kerry's messages were pragmatic. For the opposition, violence and teargas have no place in parliament. Dialogue instead of threats, if we want to achieve something. For the majority: Corruption and political crime must be investigated to the highest levels. No process of integration must be held to ransom by them", Abdixhiku declared.
The renowned columnist, Halil Matoshi says that after Kerry's messages, the opposition must return to parliament to contribute for the solution of the political crisis through debate and dialogue.
"John Kerry rejected the claim of the opposition parties that the Brussels' Agreements threaten Kosovo's sovereignty. He made it clear that the US will not allow Kosovo's division. In these circumstances, the majority and opposition must join forces to fight organized crime and corruption", Matoshi said.
The US State Secretary, John Kerry, declared from Pristina that the USA would not back any agreements which would damage the sovereignty and the independence of Kosovo.
He called for debates to take place in parliament, which must be the temple of democracy and not a place of violence.
"Violence is unacceptable and parliament must be the place where debates take place", Kerry said. /ibna/