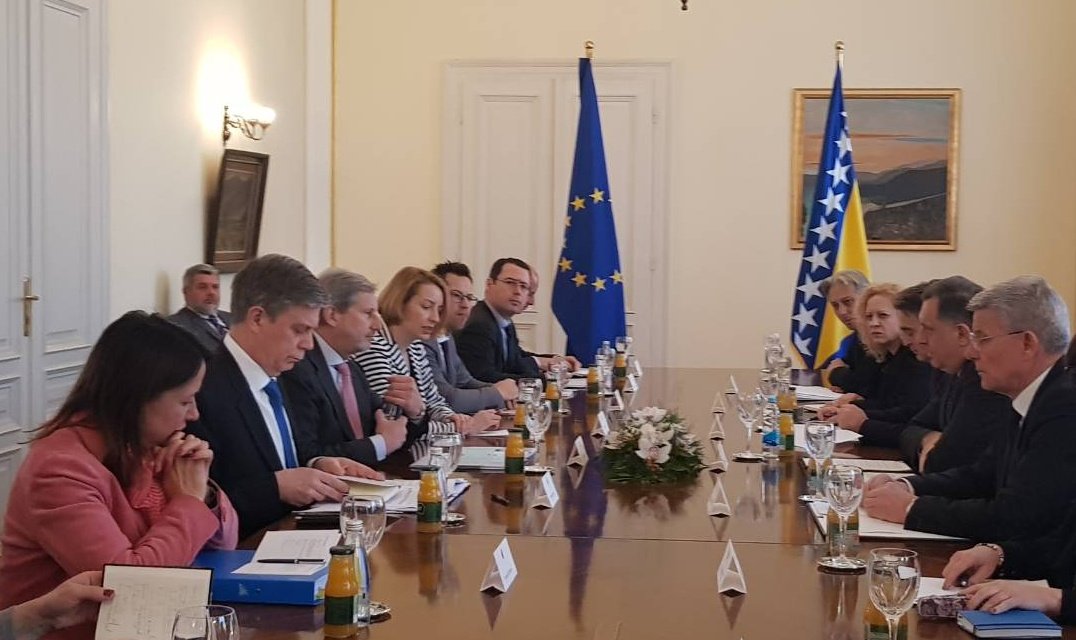 European Commissioner for Enlargement and European Neighbourhood Policy, Johannes Hahn, stated on Thursday in Sarajevo that an opinion on the merits of BiH's application for EU membership could be announced by the end of May.
Hahn said the Commission was working hard on drafting the opinion based on the answers to the Questionnaire that BiH authorities recently sent to Brussels.
However, he recalled that some of the questions remain unanswered.
"You know that 22 questions are unanswered, but that is something we can work on. It is our ambition to publish the opinion by the end of May under the condition that government is formed not only at the level of Bosnia and Herzegovina but also at the level of Federation BiH. We need that because we have to have a partner on the other side, we must have authorities that will keep working on these questions", he said.
Hahn assessed that the opinion on the merits of BiH's application for EU membership is in a transitional phase, but that the phase in which all necessary reforms are undertaken is much more important. He emphasized the importance of working on the socioeconomic reform agenda, stating that it is necessary to create job opportunities through more attractive conditions for business operations for both foreign and local investors.
During his visit to Sarajevo, Hahn met with the members of the BiH Presidency, representatives of the paliamentary parties and civil society. Particulary, he met Suzana Radanović and Muriz Memić, the parents of two murdered young men, to hear their opinion about the case. At the press conference, Hahn confirmed that a special envoy will come to BiH to help the judiciary system. He said it will be a German expert who helped other countries in the region to improve their judiciary.
"Colleague Reinhard Priebe will come next week to Bosnia and Herzegovina. He is a retired German judge who helped us work in Albania, Macedonia to improve their judicial systems. He directly deals with the improvement of the rule of law", he said.
Hahn also says that the state of the environment in BiH is unsatisfactory, stressing that climate goals must be met with a particular accent on the change of outdated technology.
"Block 7 in Tuzla thermal power plant was a wakeup call. I agree that things in BiH cannot change overnight. The issue of power production pertains to a significant number of jobs, particularly in the Tuzla region",  Hahn told reporters in Sarajevo.
He added that there are 16 thermal power plants in the Western Balkans that use coal, stressing that they pollute the air more than the 250 thermal power plants in the EU. According to him, 3,000 people a year die in the Western Balkans because of environmental pollution and 8,000 children contract bronchitis, which is an issue that must be addressed./ibna