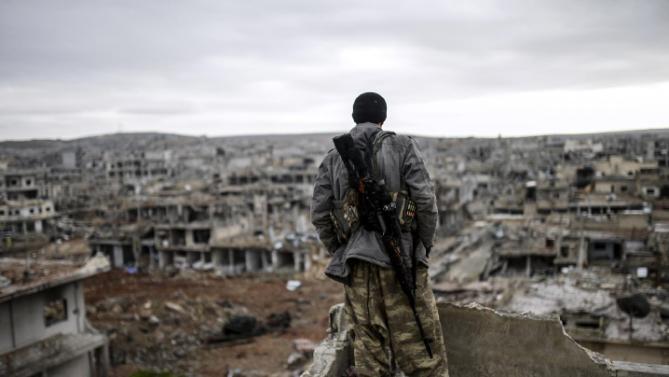 Ankara, June 25, 2015/ Independent Balkan News Agency
Hundreds dead and injured
The Kurds accuses Turkey
By Manolis Kostidis
Shock have caused the three attacks by kamikaze of the Islamic State in Kobani. From the attacks at least 100 Kurds were killed and hundreds of others were wounded. Many of the wounded were evacuated to hospitals in Turkey.
The jihadists have entered the city, which is in the hands of the Kurds, performing suicide attacks and numerous bombings. Information speak of street fighting as well. The attacks started at dawn Thursday with 12 vehicles that were trapped with explosives.
The Kurds claim that the jihadists entered Kobani from the Turkish border, an information immediately denied by the ministry of Foreign Affairs of Turkey.
The deputy prime minister of the Turkish government, Numan Kurtlulmus, stated that "those who spread such information and rumors are telling lies and are trying to make black propaganda against Turkey".
"The Islamic State after its defeat in Kobani in 2014 and Tal Abyad last week has weakened. They need impressive moves to come back", says the journalist and political analyst of the Turkish television network NTV, Mete Cubukcu.
The jihadists not only attacked Kobani, but also the surrounding villages, with eyewitnesses describing the situation as "massacre of civilians".
"Kobani and Tal Abyad are of strategic importance for the jihadists, since most of northern Syria is under Kurdish control and they have no contact with the turkish border", Cubukcu says.
However, this attack has caused fear to the Kurdish forces, since they believe that with similar unannounced powerful attacks, the whole city fall into the hands of the Islamic state, just like what happened in Mosul.
The opposition in Turkey has repeatedly accused the Davutoglu government that it "closes its eyes" to the Islamic state and allows the passage of jihadists to Syria.
Ankara denies the accusations and characterizes the Islamic State as a "terrorist organization".
The president of the country Recep Tayyip Erdogan has said that "the PKK and the Islamic State are equally dangerous organizations".
In October 2014, when the Islamic State had started launching attacks to Kobani, Erdogan in a speech 500 meters from the city had declared that "Kobani will soon fall", a statement that had angered the Kurds. In the riots that had followed in Turkey for two days, 50 people lost their lives.
Many Turkish analysts say that Turkey does not want Kurds to gain control of northern Syria, since they consider YPG to be an offshoot of the PKK.