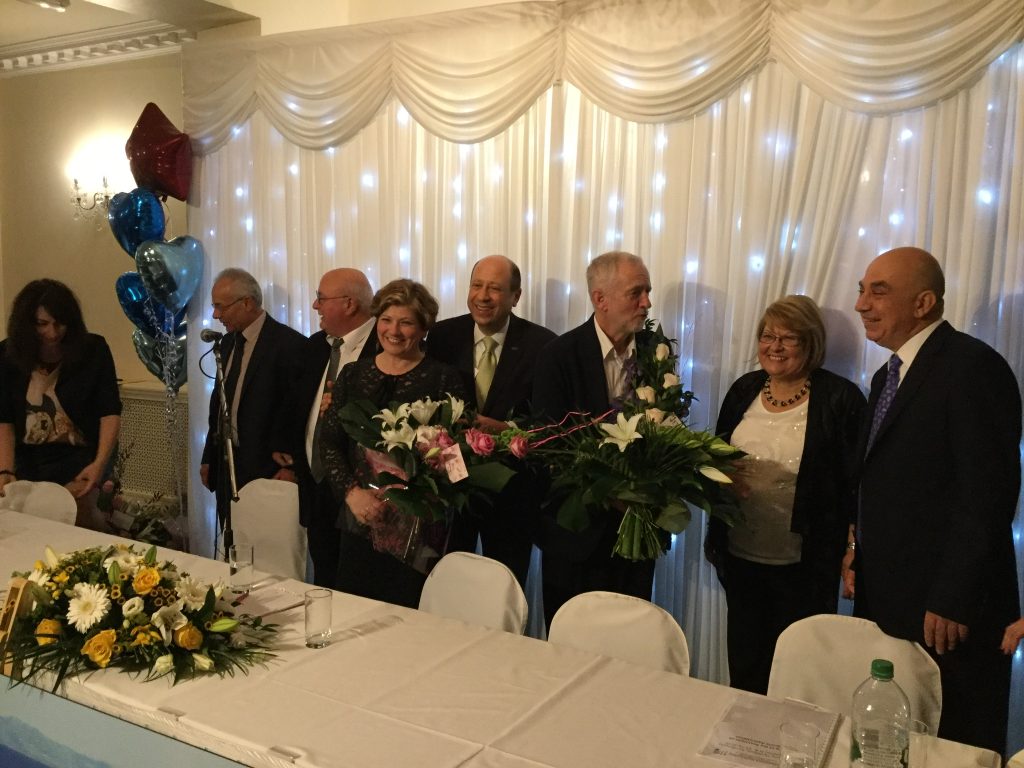 The Labour Party leader Jeremy Corbyn has stepped up the pace of his efforts to regain the political initiative in the UK as regards the Cyprus issue, following the last few years of the Conservatives setting the agenda and boasting a dominating presence in Cyprus-related initiatives.
Only a few weeks after a surprise appearance in a London Cypriot community event on the eve of his re-election as party leader, Mr Corbyn attended a Famagusta Association of Great Britain dinner in north London on October 23rd. He was accompanied by his wife, other members of his family and none other than the Shadow Foreign Secretary Emily Thornberry.
The 67-year old left winger firebrand has been one of the longest-standing parliamentarian friend of Cyprus in the UK, acquainted with the tragedy of the Cypriot people ever since his days as a north London councillor trying to fend for the 1974 wave of refugees caused by the Turkish invasion.
His commitment to the rights of the Cypriot people has not wavered one bit as he said in an uncompromising speech at the dinner. Not one to mince his words, Jeremy Corbyn repeatedly spoke of a Turkish "invasion" that caused "loss of life, destruction, partition, loss of property and the refusal of the refugees' right to return."
He described the status quo in Varosha, the fenced off town in Famagusta, as a "disgrace" that needs to be righted and then turned his attention to his own country's policy. "When a country takes up a responsibility of guarantor of independence as Britain did in 1960, that is a very serious long term responsibility. We recognise that, we understand that. I want a government that bases its foreign policy on peace, on justice, on human rights, on international law… That means accepting our responsibilities, that means ensuring there is a peaceful solution to the conflicts, bringing people together and also recognising the deep injustices that were done in 1974, when that invasion took place. And if that means a difficult relationship with some big powers in order to assert our determination to uphold the rule of law and human rights, then so be it," said the Leader of Her Majesty's Official Opposition.
Mrs Thornberry, also accompanied by her husband, referred to her personal bond with Cyprus, where her father lived for many years until he died after first visiting the island as a UN peacekeeper. She also described the personal impact of the sight of Varosha, a town "left to rot ever since the Turks invaded."
Jeremy Corbyn aims to make the best possible use of the new intake of Labour MPs in north London, as well as of a couple of enthusiastic and hard-working aspiring politicians of Cypriot descent that plan to contest seats in the next election. Prominent among them is Suzy Stride, a fiery East Londoner determined to make a difference in the lives of people who most need one.
However, Mr Corbyn and his party have a lot of distance to cover following at least six years of Conservative MPs – based around a powerful north London core – representing in a vocal and efficient way the interests of Cyprus. These MPs were regularly flooding David Cameron and now Theresa May and Boris Johnson with representations on behalf of their UK Cypriot constituents, reminding them of London's responsibilities as a guarantor power.
The challenge that Mr Corbyn is facing in terms of getting more UK Cypriots on board his Labour party can be seen in the large political crowd that recently attended a 'Conservative Friends of Cyprus' event during the Tories' conference in Birmingham. Then there is also a second trip of Conservative MPs to Cyprus scheduled for the beginning of November, with more than a dozen of them expected to take part in order to enhance their understanding of the Cyprus issue and their bonds with the island.
For Cyprus, however, the raised level of interest by UK politicians in what the future of the island will be is welcome from whichever side of the political spectrum it derives. The bet for the UK Cypriot community now is to have its critical mass of voters represented in the UK parties and of course in parliament within the next couple of elections./ΙΒΝΑ