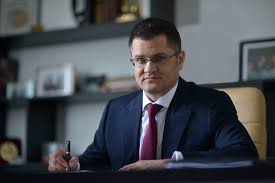 Vuk Jeremic (photo), Serbian opposition politician and former United Nations General Assembly's president, has attended the session of that body in New York this week – and he believes that the performance of Serbian officials there was dissatisfying. Among other things, Jeremic is, in his own words, ready "for a big bet" that US president Donald Trump will not visit Serbia.
Namely, Serbian president Aleksandar Vucic has used the opportunity of being at the session to call Trump to visit Belgrade. Vucic said that Trump has "accepted" the invitation; Vucic's statement was promptly run as "breaking news" by the state owned Serbian media.
"I hope that I am wrong", Jeremic told N1 television. "It would be good if American president would visit Serbia. But I am very skeptical", he went on.
"It's not enough to meet somebody in the UN hallway in September and wait a year to pass without having any relations. In diplomacy, relations are permanent thing; one must build them all the time. We should not just ask for omething, but also give", Jeremic said.
During the General Assembly session, Serbian foreign minister Ivica Dacic has also tried to persuade Trump to visit Serbia. Before the session started, Dacic approached Trump and presented him copies of the Serbian tabloids front pages published during the American presidential campaign 2016. He showed them to Trump as the "evidence" that the majority in Serbia was on his side and against Hillary Clinton.
However, Dacic revealed that Trump has asked him if Ana Ivanovic still plays tennis. Ivanovic was ranked No.1 in the world in 2008. She retired from professional tennis in December 2016.
Four years ago, after meeting Dacic who was then prime minister, Trump claimed that Ana Ivanovic is the most beautiful woman he has ever seen. He said of Ivanovic: "She is the most beautiful woman I have seen in my life. Simply the most beautiful."/IBNA