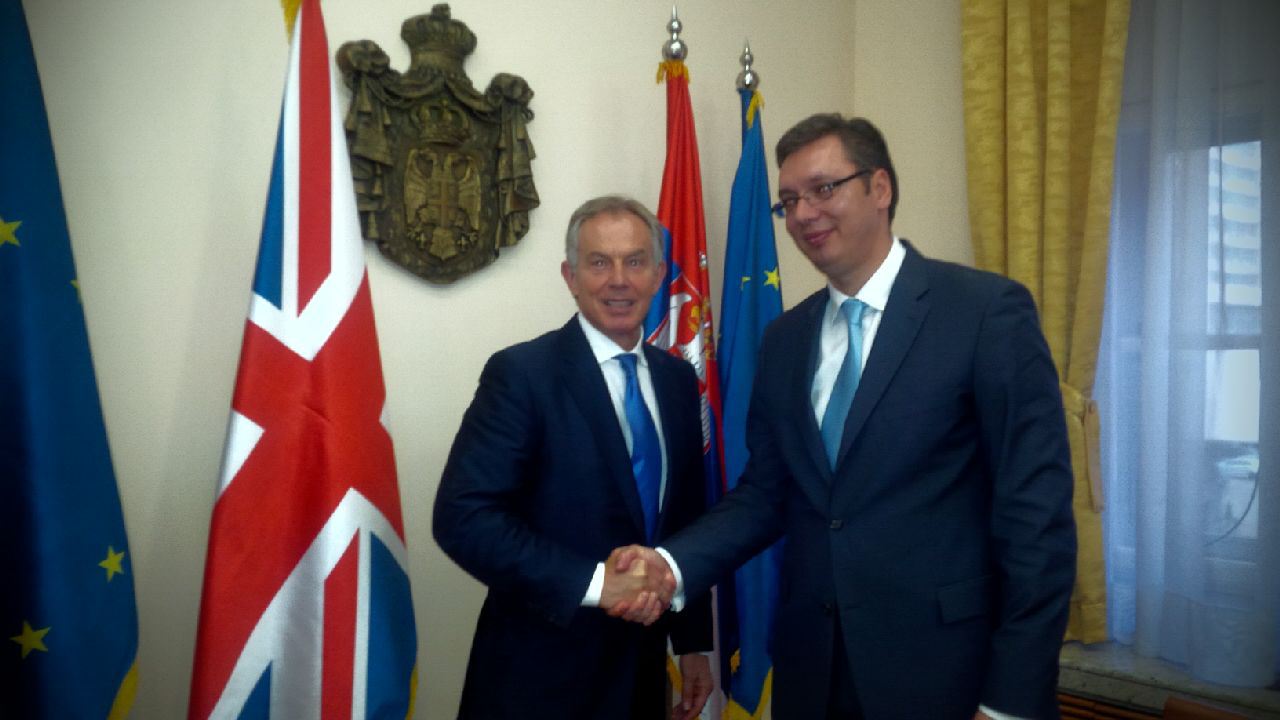 The Institute for Global Change, headed by the former prime minister of Britain, Tony Blair, has denied that Blair participates in the Belgrade-Kosovo dialogue on behalf of the President of Serbia, Aleksandar Vucic. The claim over Blair's engagement came from opposition leader Vuk Jeremic and, like Global Change institute, Vucic too, has denied it.
Still, it is well known that the Serbian government led by Vucic has established some kind of co-operation with Blair who played one of the main roles in the bombardment against Serbia in 1999 and the subsequent de facto secession of Kosovo. In recent years he has visited Serbia at least twice.
Jeremic, former Foreign minister and ex-president of the United Nations General Assembly, insists on Blair's role in the Kosovo talks on behalf of Belgrade.
The whole "case" began going around last week, after Jeremic returned from New York, where he attended the 73rd UN General Assembly session; during an interview of his with N1 TV he said that "important interlocutors" have told him that Blair negotiates on the "demarcation" (at the moment widely discussed both in Serbia and Kosovo) issue linked with Belgrade and Pristina.
As he said, Blair does that "in accordance with his direct deal with Vucic".
Vucic and Kosovo leader Hasim Taci launched (the idea of the) "demarcation" plan earlier this year.
"Blair does nothing for free. I am asking: has Tony Blair received money for something like this and who paid him? He was not paid with money from the Serbian budget, but somebody pays him for this. I do not have evidence, but I expect somebody to deny this", Jeremic underlined.
He added that Blair receives 150,000 US dollars per month for his participation in the Belgrade-Pristina talks. However, he did not want to reveal the source who passed on the piece of information to him.
"If I share their name with you, I would never get information again. But I appeal to Aleksandar Vucic to deny that Tony Blair negotiates (on behalf of Serbia)", Jeremic insisted.
Vucic reacted to his appeal, but the answer was anything but… unambiguous.
"We never gave him (Blair) one dinar for anything. He does not negotiate anything, I negotiate. And that is the decision of both branches of executive power, the one of the cabinet and mine… My name is not Tony or any other; my name is Aleksandar", the Serbian president clarified.
The Tony Blair Institute for Global Change was more direct. "Mr. Blair absolutely does not act on behalf of the Serbian government or the (Serbian) president. The project of our Institute has nothing to do with the Kosovo issue", says the written statement given to KoSSev website.
Still, Jeremic has not refrained from his claims. On the contrary, he said that Blair is paid "by the Middle East".
According to Jeremic's Wednesday Tweet, "'Only I negotiate the Kosovo issue'. This is true, and he will bear consequences. But Tony Blair, with his approval and … paid by the Middle East, is travelling to Western capitals, persuading them (Western officials) that 'demarcation' is the only solution. Vucic has not denied this"…. / IBNA
Main Photo (File): Aleksandar Vucic (R) and Tony Blair